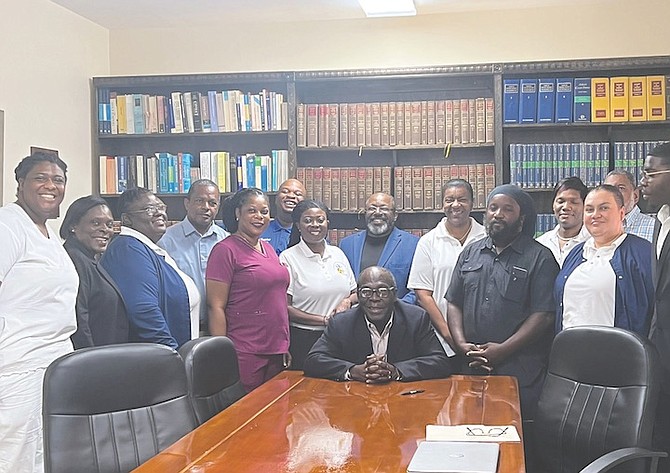 By LETRE SWEETING
Tribune Staff Reporter
lsweeting@tribunemedia.net
AS Labour Day nears, some union leaders have pledged to fight for amendments that make the Employment Act more worker-friendly.
Yesterday, Trade Union Congress (TUC) president Obie Ferguson lamented the benefits workers get when they are made redundant and said unions would fight for changes.
"People who work for 35 years with a particular company, you can't explain to me or any rational Bahamian that they should only be paid for 26 weeks pay," he said. "That just doesn't make any sense, and that is something we have to change, and I mean change fundamentally.
"Some of these people work 35, almost 40 years of employment, so if you are making them redundant, how are you going to give them 26 weeks pay, as though they only worked for 12 years? That doesn't make any sense, so we're going to fight and get that done. That's a must. We must get that fixed.
"On redundancy, they only pay you what they call basic pay, but some people get gratuity, some people get bonuses, so how are you going to leave those things out? Those are the kind of things we're going to change."
The Employment Act details the entitlement of people made redundant.
For regular employees, this includes two weeks' notice or two weeks' basic pay instead of notice; and two weeks' basic pay for each year up to 24 weeks.
For employees in supervisory or managerial positions, this includes one month's notice or one month's basic pay instead of notice; and one month's basic pay for each year up to 48 weeks.
The law says: "Where an employer provides a gratuity or noncontributory pension for an employee, the employee is not entitled to both redundancy pay and the gratuity or noncontributory pension. but the employee shall select the one which he prefers."
Mr Ferguson's comments came as his body welcomed The Bahamas Allied Healthcare Workers Union (BAHWU) and the Junkanoo Beach Association (JBA) into its organisation.
The BAHWU was formed in April to represent healthcare workers who have purportedly been overlooked. The union has separated from the Bahamas Public Services Union (BPSU). The JBA reportedly represents 25 Junkanoo Beach vendors and 200 employees.
Mr Ferguson said the TUC is satisfied with some of what the Davis administration has done this term, noting many outstanding industrial agreements have been finalised.
He said the TUC would host a series of events for Labour Day, beginning with a church service at the Church of God of Prophecy on East Street on May 28 at 10am.