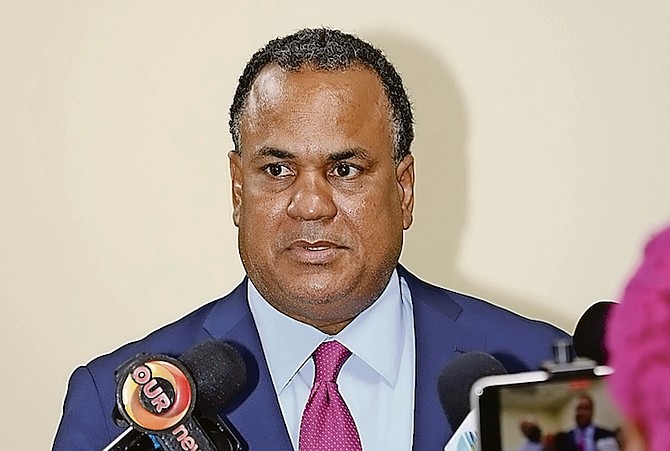 • Minister reiterates 'no margin increase' stance
• Petroleum dealers 'in awe' of Gov'ts position
• Know 'what's left in chest' as warn on action
By NEIL HARTNELL
Tribune Business Editor
nhartnell@tribunemedia.net
Bahamian petroleum dealers yesterday argued that '"a short-term injection doesn't alleviate the problem" of fixed margins after a Cabinet minister disclosed the Government provided $6m in "relief" to the industry last year.
Raymond Jones, the Bahamas Petroleum Retailers Association's president, told Tribune Business that his members "are just in awe" after Michael Halkitis, minister of economic affairs, reiterated the Government's long-stated public position that it will not approve any increase in the sector's price-controlled fixed margins even though many gas station operators are "under water" financially.
Expressing surprise that Mr Halkitis had revealed the "rebates", which the Davis adminstration had requested petroleum dealers stay silent on, he queried why it would now refuse to address the inability of the industry's margins to cover ever-increasing when last year's provision of $6m "relief" showed it recognised their struggles.
Mr Jones, in a release issued on the Association's behalf prior to the minister's comments, warned that "we will have no choice but to take further action" if their cries for a margin adjustment are not resolved. Asked what this may involve, he declined to provide specifics, but said: "We know what is left in the chest, and will decide which one to play."
Petroleum dealers were due to meet yesterday to discuss their next moves, and "address or draft a release to go out to make the public aware of what the situation is". That release did not reach Tribune Business before press time last night, but Mr Jones had indicated earlier this week that - after many gas stations stopped serving diesel fuel - the next step may involve reduced operating hours as dealers seek to cut their costs and losses.
The retailers and government at present appear to have reached an impasse after Mr Halkitis, in remarks at the Prime Minister's Office's media briefing, again ruled out any increase in the industry's margins because this would automatically result in increased gasoline and diesel prices for consumers and businesses. He added that the Government had given dealers "breathing room" by offering some $6m in "rebates" last year.
Noting that diesel fuel is still available, in a nod to the Shell gas stations that have not stopped serving it, the minster said: "The position of some of the retailers is that the profits they're making on it currently is not sufficient for them to continue. We hope that they reconsider that.
"The position remains that the Government of The Bahamas is sympathetic to their plight, but at this time with conditions as they are, we are not considering any increase in the margin. I should also say, as well as being sympathetic, we've been having these discussions for many months.
"The Government last year provided tax rebates to the tune of $6m to the petroleum dealers; $5.5m in cash and $500,000 as offsets to some of the taxes owing. We have made an effort to help to ease the burden and to give them some support; to give them breathing room. We know that helped. We continue to ask them; it's a difficult situation for all, and so it would not be in for us to consider raising prices at the pump at this time."
Responding to questions on the retailers' call for a margin increase, Mr Halkitis added: "The issue is this. Of course we want to continue the conversation. The easiest solution as far as the dealers are concerned is to give them a margin increase. What that does is everyone who goes to the pump pays more. All of us.
"As I said, we've been having these discussions for some time. Global conditions are such that [oil] prices are high. Part of the solution and accommodation was to give the tax rebates last year. We thought that would give some breathing room. We think it did.
"We continue to seek a solution, but it's not as simple a solution as give a margin increase that increases the price for everybody or take the tax off diesel or whatever, which only means that the Government's revenue falls short and we have to borrow again. There's some proposals going back and forth. We continue to discuss things. It's a very challenging situation." The Government presently earns 10 percent VAT, plus $1.15 in duty, for every gallon of gas sold at the pump.
Mr Jones, responding to Mr Halkitis, disclosed that the Government had told petroleum dealers it would look at a margin increase in the 2022 third quarter if gas prices came down. While they dropped by $2 between July and September last year, that level of decrease was probably not sufficient to move the administration.
Contrasting the rebate offered last year with the Government's stance now, the Association president said: "The minister got up in his press statement today, and said we gave these guys a rebate last year in recognition they cannot survive with the current margins, but come January they increased the cost further and said the Government is not minded to increase the margins at this time because of the cost it would put on the public."
While confirming the $6m relief, Mr Jones pointed out that this was spread across multiple dealers and gas stations. And, in the industry's eyes, it only represented the temporary "breathing room" referred to by Mr Halkitis rather than the long-term solution they are desperately seeking in terms of a margin adjustment that would enable them to cover ever-increasing costs that the present structure cannot.
"The Government asked us not to disclose or let anyone know that some relief was done on behalf of the retailers," he added. "That was spread across the country. We went in there from last year, April, complaining we were under water and needed assistance, and asked for an adjustment in the margins.
"Yes, they did something across the country. But here's the problem. Let's say I'm out of a job, need food and ask: 'Can you feed me?' You recognise the problem, and give me food for today, but tomorrow the problem is still there. We need a long-term solution. A short-term injection does not alleviate the problem."
Since the rebate was provided, Mr Jones said gas stations have faced a further cost increase surge represented by the 24 percent, or $50 per week, minimum wage increase, and associated rise in National Insurance Board (NIB) contributions, plus Bahamas Power & Light (BPL) and insurance cost increases. Many gas station employees earn minimum wage and were impacted by the rise, with dealers understanding why it was implemented.
Mr Jones said the Government now appears to be taking a contradictory position, explaining: "You gave assistance when there was a previous increase in operating costs, which precipitated the costs that came in at the beginning of this year and end of last year, which is minimum wage, NIB and power costs.
"Now you tell us you can't give us pennies on the gallon but you recognised the problem last year and offered us relief when the costs were lower, but now you have added these additional costs on against fixed margins? What are we left to do?
"People are just in awe of the fact they [the Government] have said there is nothing else we can do, especially after we sat and reviewed a proposal from them. They made that proposal a month-and-a-half ago. They're offering an adjustment." However, Mr Jones questioned whether the Government was offering something it did not intend to implement.
He added that what his members were requesting was no different from the Government's decision last October to stop funding BPL's fuel charge and instead pass the cost on to the Bahamian people via increased electricity bills. "All we're saying is recognise the same issues here," Mr Jones said.
"If we were food retailers, we could simply make an adjustment to the margins to maintain some semblance of profit, but because fuel is price controlled we cannot. We had negotiated a reasonable deal which the Government had accepted, the wholesalers had accepted. Let's put it in. What's the problem now? It was nothing unreasonable. It was nothing extraordinary at all. It was pennies on the gallon; 7.8 percent on the landed cost. It was not $1 a gallon. Nothing significant."
The Association, in its early statement, added: "Petroleum retailers are demanding to be treated fairly in the face of unbearable rising costs with this low fixed margin. Petroleum retailers are in a desperate place financially. The actions taken earlier this week with not selling diesel is an effort to bring this margin issue to a conclusion. We need the Government to conclude the deal that was presented."