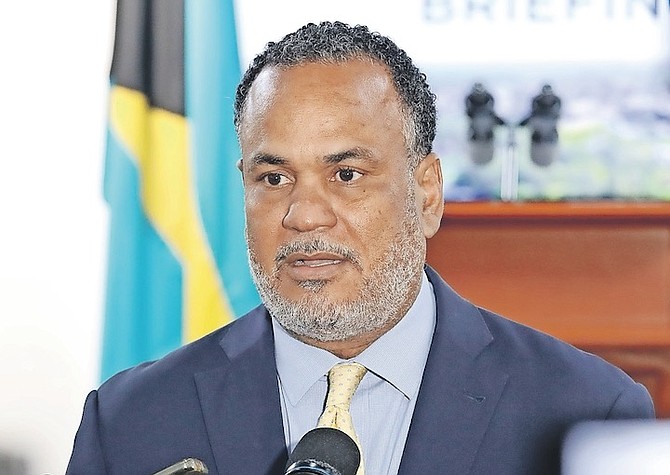 Reader poll
68 total votes.
By EARYEL BOWLEG
Tribune Staff Reporter
ebowleg@tribunemedia.net
ECONOMIC Affairs Minister Michael Halkitis confirmed yesterday that the Davis administration is not considering adjusting price margins in favour of petroleum retailers despite some refusing to sell diesel amid complaints about high operating costs.
Mr Halkitis' comment came after Prime Minister Philip "Brave" Davis said retailers who withhold diesel are hurting themselves.
"They decided to do what they wanted to do," Mr Davis said, "and it's their business that they are impacting. Hopefully, they will understand what it is to conduct business in environments such as this."
 Mr Halkitis said the administration is sympathetic to the plight of retailers.
 "Diesel is still available in the island," he said. "The position of some of the retailers is that the profit they're making on it currently is not sufficient for them to continue. We hope that they reconsider that."
 Mr Halkitis noted talks with retailers about solutions have been ongoing for many months.
 "The government last year provided tax rebates to the tune of six million dollars to the retail petroleum dealers; $5.5m in cash and $500k as an offset to some of the taxes that were owing. So we have made an effort to help to ease their burden and some support to give them some breathing room."
 In a statement yesterday, the Bahamas Petroleum Retailers Association said retailers are in a "desperate place financially".
 The association highlighted increasing expenses, noting the government implemented a 24 per cent increase in the minimum wage on January 1, 2023.
 "This applied to virtually all employees in the retail fuel sector," the association said. "This had a knock-on effect to services provided to retail stations; ie, security, etc.
 "We need the government back at the table to conclude the deal that was presented. Despite statements made, rest assured the petroleum dealers are united in this cause to obtain an increase in the fuel margins. We are quite aware of the importance of fuels to our customers and equally we are committed to provide that service and as such we have restarted diesel sales."
 "We are hopeful that we will hear from the government today. However, failing resolution to this matter we will have no choice but to take further action."