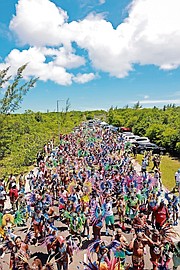 By LETRE SWEETING
Tribune Staff Reporter
lsweeting@tribunemedia.net
POLANTRA Media, the organisers of the recent Bahamas carnival, hailed the event a success.
Four days of fetes, competitions, parties, and concerts happened from May 18-21, featuring local and international artistslike Buju Banton, Kes and the Band, Wendi, Patrice Murrell, DMAC, the Battle of the Bands, Tennyson John, Fadda Fox, Bunji Garlin, Fayann Lyons, Fresh, DJ Cannon, 1K Gaza and more.
Trevor Davis, a representative of Polantra Media, said although there were significant challenges this year, he is proud that the Bahamas Carnival Experience showcased many Bahamian talent.
Mr Davis highlighted Saturday's road march, featuring six major bands and a concert series at the national stadium featuring reggae, socca and Bahamian artists.
"Saturday was the road march, and the road march went very well," he said. "We were happy with the movement this year. The parade seemed to move on time this year, which is very good. It gave persons a chance to regenerate, go home and get ready to come out for the Saturday night event. And that featured Buju Banton, Kes the Band and others and the place was full to capacity. And so Saturday night was a success.
"Then Sunday was the cooldown, the cooler fete out on Arawak Cay Beach. The persons showed up a little late for this, but they did come and they showed up in numbers. So it was a little later than we expected, but it was a grand time.
"At the end of the weekend, we couldn't end it in no better style and fashion, than seeing all those young persons coming out and enjoying themselves."
Mr Davis said organisers are already working to improve next year's event.
"I think, personally, that we as a country need to realise what we have here in the Bahamas. And once we realise what we have here in The Bahamas, the overall experience will exceed everybody's expectations, because we will have those persons flying down to the Bahamas in droves.
"I think part of the reason we're not getting the numbers that we ought to be getting, or we need to be getting is just because we tend to put our product into market too late."
Mr Davis said: "So going into next year's carnival, we all understand this. So we plan to do our launches earlier this year: October, November and get out the gate early."
"I definitely think we will start to see our visitors numbers start to trend up. The locals are doing a pretty good job with coming out and supporting. But again, the whole idea of carnival is to put heads in beds.

"It's not just for the local person to participate, but for international people to come and be a part because it's such a large travel community that follows carnivals all over the world. All we have been trying to do is get a piece of that pie."
Mr Davis could not provide cost and expense details for this year's carnival event.