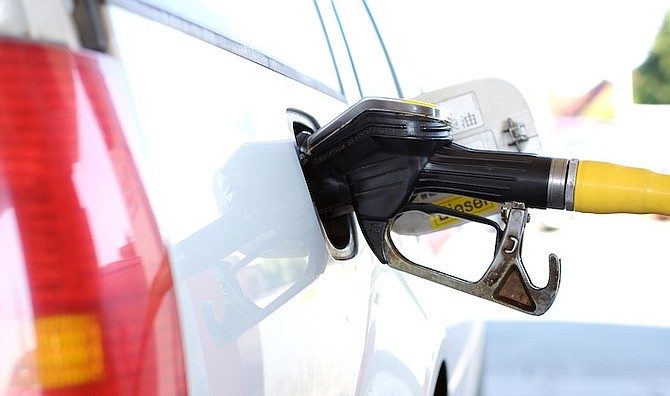 Reader poll
68 total votes.
By NEIL HARTNELL
Tribune Business Editor
nhartnell@tribunemedia.net
Petroleum retailers say they refuse to become "paupers" as they intensify demands for a 30 cent per gallon margin increase which they have been seeking to obtain from the Government since April 2022.
The Bahamas Petroleum Retailers Association (BPRA), in a statement issued on behalf of its members, said it has been negotiating an adjustment in the gasoline and diesel margins with the Davis administration for the past 13 months despite the Government's public stance that it will not agree to such an increase because it would also raise the cost of fuel for motorists and businesses.
However, in contrast to that position, which was reaffirmed by Michael Halkitis, minister of economic affairs, last week, the Association asserted it first agreed to wait for global oil - and, by extension, fuel - prices to drop from their Ukraine invasion peak before any margin changes were implemented.
It then said it was "advised" in November 2022 that the Government had agreed to alter the fixed margin regime to a percentage based on the landed cost of fuel but, yet again, nothing was implemented. Finally, the Association said it received another proposal, involving adjustments to the fuel margins, from Simon Wilson, the Ministry of Finance's financial secretary, in early April and agreed to it "with a few minor amendments".
The petroleum dealers, though, allege that nothing further has been heard from the Government and, with no margin increase forthcoming, was forced to take action to get the Davis administration's "attention" last week by suspending all diesel fuel sales for a week.
Mr Halkitis did not respond to Tribune Business' message seeking comment last night on the difference between the Government's public stance on fuel margins, and its approach to negotiations with the gas station operators in private as identified by the Association. However, one possible explanation is that the Government still believes fuel prices are presently too high to implement an increase at this time.
Vasco Bastian, the Bahamas Petroleum Dealers Association's (BPDA) vice-president, confirmed to Tribune Business that he and other gas station operators are requesting a 30 cent increase in gasoline margins so that they "do not starve in this industry". Based on the current 54 cents per gallon, that would take the margin to 84 cents, representing a 55.6 percent increase.
Other petroleum dealers contacted by Tribune Business, who decided to remain anonymous, said they are at the point of laying-off staff in the next few weeks without a margin increase. Mr Bastian added that an Association survey found some 84 percent of motorists would have no difficulty with a 30 cent increase.
Speaking yesterday, he said there has been "no movement" from the Government but himself and Raymond Jones, the Association's president, will "try and reach out" to Mr Halkitis this week in another bid to resolve this matter and see if the Government has "a change of heart".
Asserting that the Association does "not want to go down the road of getting into a back and forth with the Government", Mr Bastian said: "It's going to get dire. These are some really bad times for the industry itself. We are mindful of the challenges globally, but continue to remind the public we are open 24 hours a day, seven days a week to provide an essential commodity to the Bahamian people but we are losing.
The Association's vice-president said that, if the Government does not want to give a margin increase, it should simply get out of the way and lift the price-controlled structure. This would allow dealers to set their own gasoline prices where they could be profitable, and allow the industry to truly compete, with motorists heading to those stations which were run more efficiently and have the cheapest fuel.
"If the Government doesn't want to give us a margin increase, eliminate the margin issue and let us compete among ourselves to be profitable," Mr Bastian argued. "If the Government doesn't want to increase the margin, eliminate the margin and let us compete among ourselves so we can earn a living. You set your own price, and if it's too high people won't buy from you."
He also suggested that, if no margin increase is forthcoming soon, dealers will have to examine and conduct an "in-depth study" on whether to follow other countries by going to motorist self-service and therefore reduce staffing numbers and costs.
"We cannot really afford to continue to starve in this industry," Mr Bastian said. "Let's be fair to us. We are investors in this economy. We do so much to keep this economy afloat. This is a vital part of the economy that serves the public."
The Association, in its statement, said the root cause of its members' difficulties are that the margins they earn per gallon of gasoline are simply insufficient to cover ever-increasing operating costs that have soared post-COVID amid the cost of living crisis.
"Every single business owner and every consumer has seen and endured the effects of inflation (rising costs), and the average business owner can adjust his pricing to reflect increased cost of merchandise. Petroleum retailers cannot adjust the margin in diesel or gasoline, which are set by the Bahamas government," it said.
These stand at 54 cents per gallon for gasoline, and 34 cents per gallon for retail. By contrast, the Government earns a fixed $1.16 per gallon on all fuel sales plus 10 percent VAT, but the Association was quick to acknowledge it is not asking that this be reduced or that a portion be redistributed to its members.
And, confirming that the Government had provided gas station operators with $6m in rebates last year, it added: "We presented the case to the Government that retailers have to pay for all operating costs from these margins and, at that time in 2022, we are already in the red.
"Subsequently, the Government acknowledged that retailers were in dire situation and, as a result, in June 2022 the Government agreed to provide a temporary support for a few months..... Please tell us how a temporary assistance for a few months addresses a systemic issue of costs exceeding gross profit."
The Association, while pushing for a change from a fixed margin structure to a percentage-based one predicated on the landed cost of fuel, said it agreed to hold-off on its request for a 39 cent per gallon rise until global oil prices dropped. They duly fell by $2 per gallon between July and September 2022, but no change was forthcoming even though the Association said it was advised in November 2022 that the Government had agreed to switch to a percentage-based margin.
However, gas stations were hit with a wave of cost increases early in the New Year. The 24 percent, or $50 per week, rise in the minimum wage impacted virtually all gas station staff, along with security contractors, while insurance costs jumped 15 percent. Retail store sales remain below pre-COVID levels, the Association added, while the cost to purchase those products has soared.
"Gas stations are mainly cash businesses," the Association added. "Banks charge fees of 1 percent or more on cash deposits. So, some retailers are paying $3,000 to $5,000 per month depending on which banks they use. So, since the beginning of the year, the additional rising costs as noted have only made the situation worse."
Following the Association's March 13 meeting with the Prime Minister, at which he pledged a resolution in a week-and-a-half, the group and its members were then presented with "a proposal to change the fuel margins" by Mr Wilson and the Ministry of Finance which they accepted after suggesting several modifications.
"Since that time, we have not heard from the Government despite many requests to inquire as to the implementation of their proposal to the retailers. Petroleum retailers are highly disappointed that we had to resort to stopping diesel sales just to get the Government's attention," the Association said.
"We don't want to harm the economy of The Bahamas, and especially our customers. However, we have been calling on the Government to grant the margin increase which they propose, and what they acknowledge is badly needed by retailers, so that we - investors, business owners, employers, citizens of the Bahamas are afforded the ability to earn a profit.....
"History has shown that governments will leave the same margin in place for up to 40 years regardless of the financial condition of retailers who will lose their investment and become paupers. We feel this is unfair and will do our best for petroleum retailers to ensure this does not continue."