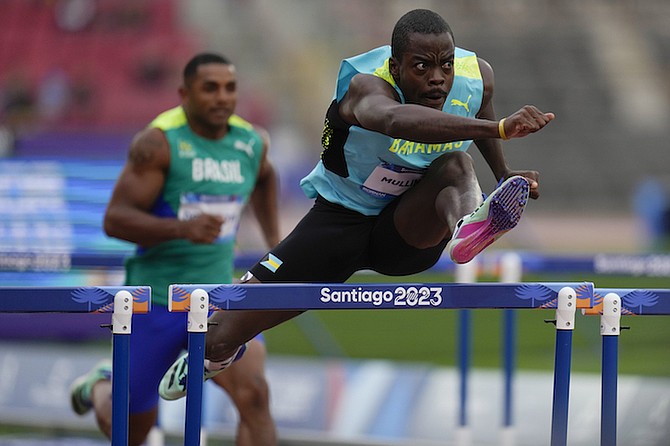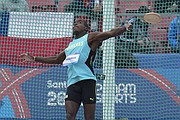 By BRENT STUBBS
Senior Sports Reporter
bstubbs@tribunemedia.net
After getting off to a scorching start on day one of the 19th Pan American Games, national record holder Ken Mullings dropped out of contention for a medal and eventually the rest of the 10-event competition on the final day yesterday in Santiago, Chile.
His downfall came in the third event of the day in the men's pole vault where he failed to clear any height, dropping him from fourth place to ninth place, at the Estadio Nacional Julio Martinez Pradanos.
He didn't start the javelin as the final two events took place in the evening session and subsequently was not allowed to close out the competition in the gruelling 1,500 metres, which brought the curtain down on the showdown between the versatile athletes in track and field.
All of his previous points didn't matter as Mullings ended up with a DNF (did not finish) logged beside his name on the scoresheet.
Coming into the final day of competition in fourth place after completing the first five events on Monday, Mullings won his heat of the men's 110m hurdles in 14.27 seconds for the fastest time combined.
The 26-year-old Mullings remained in contention in the men's discus in fourth place with a heave of 136-feet, 7 1/4-inches or 41.64 metres. But the medal slipped out of his grasp after he couldn't post a mark in the pole vault to end the morning session.
Mullings completed the first day in fourth place with 4,035 points after the first five of 10 events contested with a victory in the heats of the men's 100m in 10.89, third in the long jump with 22-7¾ (6.90m), third as well in the shot put with a heave of 47-9 ½ (14.57m), third also in the high jump with 6-7 ¼ (2.01m) and second in his heat of the 400m in 50.67. Efforts to contact Mullings for comments were unsuccessful. Also yesterday, Joshua Higgins completed the sixth race in the Dinghy ILCA 7 category in the waters of the Cofradía Náutica del Pacífico in Algarrobo, Chile. However, he didn't move up the final rankings, finishing 17th place overall.
The Harbour Island native came in 20th place to dit in 17tth place on the standings with 87 points.
Still waiting to compete in track and field for Team Bahamas on Friday in their respective events are men's high jumper Donald Thomas and female javelin thrower Rhema Otabor..
Team Bahamas already earned a medal at the games during the first week of competition as swimmer Lamar Taylor touched the wall for the bronze in the men's 50m freestyle.