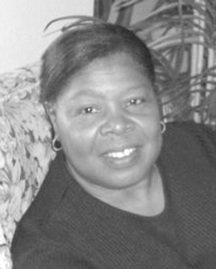 Marcia Jane Mortimer
unknown - unknown
Funeral service for Marcia Jane Mortimer 59 yrs., a resident of Eastern Estates, who died on 8th April, 2012, will be held at Our Lady of the Holy Soul Catholic Church, Deveaux Street, on Saturday at 12:30 p.m. Officiating will be Rev. Fr. Alain Laverne, assisted by Monsignor Simeon Roberts, Deacon Peter Rahming & Deacon Maxwell Johnson. Interment follows in Lakeview Memorial Gardens, JFK Drive.
Left to cherish the blessings and memories of Marcia's life are: Her one and only precious son, Devon Marcian Ryan; Brothers & Sisters: Roselyn Marie Rolle, Maurice Kendal Mortimer, Superintendent of Police Theresa Mae Hanna, Bernice Marie Willis, Renbert Gerard Mortimer Sr., and Bridgette Georgette Pratt. Brothers and Sisters-In-Law: Attorney Norwood A. Rolle; Eula Mortimer and Christopher Pratt. Uncles & Aunts: Bruce & Bernice Mortimer, Patricia Johnson, Rose Culmer, Frank & Pandora Pratt; Robert & Betty Rose, Lionel & Marva Rose, James Morley Thelma, Ophelia, Cleomi Rose; Adopted Mother: Mrs. Delores Nottage; Godmother: Mrs. Olga Nairn; Nieces & Nephews: Derreck Ingraham, , Marcel, Vonurie, Andra, Katherine Renbert II & Rena Mortimer, Jamaine Smith, Omah & Alexis Hanna, Monique, Shana & Andre Rolle, Christina Pratt & Glenda Grant; Grand Nephew & Niece: Maurice 'Mo' Mortimer & Alexanderia Albury; Grand Uncles & Aunts: Leroy & Agnes Glass, Florabell Penn, Keva Farquharson, Coralee Sturrup, Eloise Armstrong; Cousins: Attorneys Lyden and Jacob Rose, Attorneys Debra Munnings and Sharon Hutchinson, Cecil, Maxwell, Phyllis, Ednal, Sonia, Debra, Frenrick, Pricilla, Dwight, Walter, Phillip, Brian, Monique, Patrick, Keith, Charles, Burke, Dianne, Edna, Sherrie, N'Kimo, Kim, Stephen, Willard, Gerald and Julie Hamilton, Robert and Rhonda Bucker, Michael, Bruce & Joseph Mortimer of Orlando, Wendell, Patricia, Pamela and Sharon Black of Orlando, Florida, Reginald, Anthony, Thomas, Richard, Wendell, Dorothea & Renaldo Delaney, Sherrie Ferguson, Tanya, Michael, Albert, Christine, Kendal, Donald, Archie, Ernestine Rigby, Annamae and Sammy Delva, Gathwell and Zenniemae Johnson, Stanley, Stanya, Shamika White; Numerous Godchildren including: Tamar Poitier, Dario Woods, Haggie Lightbourn, Doyle Rolle; Other Relative and Friends: The Honorable Hubert A. Ingraham, Prime Minister, Geddis Willis, Sylvanna Rahming & Family, Charles & Andrea Adderley & Family, Shelia Beneby & Family, Marvin & Nancy Pinder & Family; Rev. T.G. Morrison & Family; Robin & Terecita Forbes & Family, Michelle McPhee & Family, Gina Nottage & Family, Rudolph & Christopher Nottage & Family, Francis & Deborah Richardson & Family, Ophelia Major & Family, Edward "Bobby" & Katherin Glinton & Family, The Management & Staff and Retirees of Bahamas Mortgage Corporation, Rollen Goffe & Family, Florinda Bastian & Family, Heneritta Miller & Family, Mable Newton & Family, Reuben & Williame Stuart & Family, Reuben & Maude Hamilton & Family, Doreen Fernander & Family, Evangeline Ford & Family, Renee Smith & Family, Percy Rolle, Barbara Cleare –Bellot & Family, Patrica Curry & Family, Hubert Dean & Family, John & Erva Hall & Family, Marcian Francis & Family, Ester Woods & Family Ann Saunders & Family, Tericine Minnis & Family, Evangline Ford & Family, Albert & Mabel Daxon & Family, Dr, Maurice Brooks & Family, Ruth Miller, Godfrey Bowleg & Family, Jerome Godfrey, Mildred Bowe & Family, Emma Forbes, Terry Joseph, The Friends of the Nazareth Centre, The Staff of the Nazareth Centre, Our Lady's Women Auxiliary, OLC Men Group, Cynthia Moss & Family, Lloyd & Sharon Turnquest, Deacon Samuel Mitchell & Family, Phillip Saunders & Family, Leslie Major, Wellington Olander & Family, The Gibson, The Sands, The North, The Rolle, Vernita Johnson & Family, James & Valderine Williams & Family, Holy Family 7:00 o'clock Morning Worshipers, OLC 7:00 o'clock Morning Worshipers, Mary Charles, Brenda Clarke & Family , OLC Fair & Raffle Committee, CCD Teachers and Students, OLC Catholic Heritage Group, & Dianne Seymour, Ruth Strachan, Thelma Thurston, The Kiononian Family, Aquinas Class of 1969, The Canterbury Park, Lexington Avenue and Easter Estates Families.
Friends may pay their last respects at Demeritte's Funeral Home, Market Street, from 10-6:00 p.m. on Friday & on Saturday at the church from 11:30 a.m. until service time.