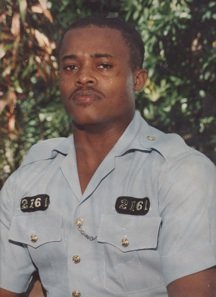 Hugh Eddison Minnis
unknown - unknown
Sgt. 2161 Hugh Eddison Minnis, 38, of Springfield Road, Fox Hill and formerly of Commonwealth Blvd, Elizabeth Estates died on Tuesday, April 24th, 2012 at Uchee Pines Medical Institute, Alabama USA.
He is survived by his Wife: Inez Minnis; Children: Azaria, Sanaa & Hugh Eddison Minnis Jr. & Tanisha Newbold; Children: Theodore Roberts Jr. & Aniyja Minnis; Brothers: Sgt. 1662 William Minnis, Chadwick Kemp, Rosco & Ronald Minnis both of Ft. Pierce, Fla; Sisters: Donna Dean of Ft. Pierce Fla,Valerie Barr, Keva Mae Kemp & Andreanette Gaitor. A host of relatives and friends.
Funeral arrangements will be announced at a later date.