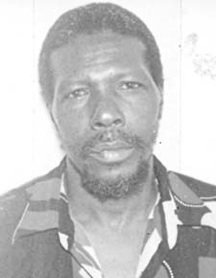 Glenroy Taylor
unknown - unknown
Funeral service for Glenroy Taylor, 50 yrs., a resident of 5th Street the Grove, will be held at St. Cecilia's Catholic Church, 3rd St. the Grove, on Saturday at 10:00 a.m. Officiating will be Fr. Simeon Roberts, assisted by Fr. Alain Laverne, Deacons Maxwell Johnson & Peter Rahming. Cremation follows.
Left to cherish his memories are his mother: Eulean Roxbury Taylor; brothers: George Mortimer & Joseph Major Jr.; sisters: Henrietta Miller, Prescola Mora (Rochester, New York), Julia Smith & Eliza Major; brothers-in-law: Luis Mora (Rochester, New York), & Rick Smith; uncle: Livingstone Roxbury; aunt: Winifred Roxbury Taylor (Dunmore, Long Island); nieces: Valderez Miller, Ariel, Rickia & Akira Smith, Deandria Ingraham, Anastacia Russell & Gia Mortimer; nephews: Harvilley Darville, Dion Ingraham Jr., Vincent Newbold, Mark Neely, Jarron Mortimer & Angelo Russell; grandniece: Alexa Miller; numerous cousins including: Tasha, Christine, Celia, Livingston Jr., Ronald, Phillip & Frank Roxbury, Marie & Carriemae Taylor, Veronica Munroe, Earline Ellis, Donna Turnquest & Ruthie williams; a host of other relatives & friends including: Phillip Sturrup & family, Nolan Johnson, Sonny Moxey, Patrick Dawkins, Tyrone, Prince Lloyd, David Knowles, Ronald, his 4th & 5th Street Coconut Grove family, rollen Goffe, Duane Miller, the Dean & Roxbury family of Dunmore, Long Island. Special thanks to the Doctors & Nurses of Male Medical !, Msgr. Simeon Roberts, Fr. Alain Laverne, Deacons Peter Rahming & Maxwell Johnson & the entire faith community of Our Lady's Catholic Church.
Friends may pay their last respects at Demeritte's Funeral Home, Market Street, from 10-6:00 p.m. on Friday & on Saturday at the church from 9:00 a.m. until service time.