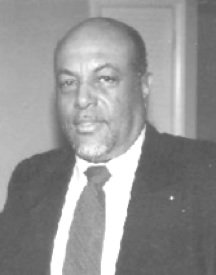 Howell "Kirk" Kirklin Tinker
unknown - unknown
Funeral Service for Howell Kirklin "Kirk" Tinker, 72 years of #19 College Gardens, will be held on Saturday December 29th, 2012, 10:00 a.m. at Grace Community Church, Palmetto Village. Sr. Pastor Lyall Bethel, Sr. Pastor Emeritus Dr. Rex Major, Pastor Emeritus Marcel Lightbourne, Pastor Leroy Hanna, Elder Stuart Kelly and Elder Cyril Peet will officiate. Interment will follow in Woodlawn memorial Gardens, Soldier Road.
Left to cherish his memories are: Wife: Carolyn M. Tinker; Daughters: Wendy Meadows, Dr. Kira Tinker, Kirbrika Tinker, and Regina Smith; Sons: Charleton B Tinker, Kirk Tinker Jr., Gary "Prince" Tinker, Kenssen Tinker, and Tamar Tinker; Son-in-law: Earl Meadows; Daughters-in-law: Rose Tinker, Stacia Tinker, Brenda Tinker, Marquita Tinker, and Cheryl Tinker; Grandchildren: Gary, Alexis, Julius, Brianna, Jahmar, Kerqia, Kinnard, Ashley, Ashton, Lisa, Antonia, Anisa, Tommy, Dario Tinker; Sisters: Donna Jorge and Joy McMillian; Sisters-in-law: Dorothy Bowleg, and Myrtis Taylor; Brothers-in-law: John Bowleg, Leonard Taylor, and James Smith; Uncle: Irvin Taylor; Aunt: Rev. Doris Tinker; Nephews: Ricardo Jorge, Darren Mc Millian, Byron Smith, John II Bowleg, Kimani, and Jason Smith; Rashad and Ryan Taylor; Nieces: Denise Abrahamsen, Danielle McMillian, Anthrice, Alizzia, and Terranique Smith, Dr. Lisa Bowleg, Janelle Albury, and Nicola Smith; Cousins: Glynn Braithwaite, Rose Butler, Joseph Taylor, Dianne and Ian Penn, Ruth, Alma, Carla, Kim and Emily Taylor. Lona Munroe, Louise Hutchinson, Kelcine Hamilton, Rhona Johnson, Kendal, Dennis, John Lester, Edward, Brian Irvin, Edward, Rodney, Alfred, Neville, and Nathan Taylor, Otis Deveaux, Wendell, Brian, Eldridge Taylor, Sheila Taylor and Herman. Beloved relatives & Friends: The Miller Family; Milton and Emily Dames, Wendell "Tips" & Miriam Bain, Johnnie Rahming, Mocius Richard & Family, Adans "Ramsis" Joseph, Gregory Johnson, Andy Lockhart, the Gay, Minnis, Johnson, Boyd, Mitchell and McNeil families, College Gardens Neighbors, The Grace Community Church Family, The Sunburst Paints Staff, Kevin Rolle, and numerous other family members and friends.
Friends may pay their last respects on Friday from 10:00 a.m. to 6:00 p.m. and on Saturday at the church from 9:00 a.m. until service time.