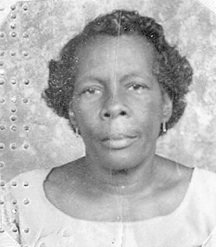 Helen Anderson Gibson
unknown - unknown
Funeral service for Helen Anderson Gibson, 80 yrs., a resident of Malaysia Way, Elizabeth Estates & formerly of Major Cay, Crooked Island, who died on 21st January, 2012, will be held at Zion Yamacraw Baptist Church, Yamacraw Hill Road, on Saturday at 10:00 a.m. Officiating will be Bishop Samuel Greene CMG, JP, Rev'd Howard Howard T.G. Smith, Rev'd Alfred Stubbs, Rev'd Hilton Bullard & Rev'd Paula Cox-Rolle. Interment follows in Woodlawn Gardens, Soldier Road.
Left to cherish her memories are:
Her Husband: John Gibson
Four Sons: Anthony, Alfred and Philip Gibson, Leonard Forbes
Two Daughters: Sharmine Gibson and Joanne Sands
Twenty-three Grand Children: Raoul, Venetia, Anthony Jr., Uriel, Yoshan, Alfred, Alfernette, Deandra, and Danik Gibson, Vanessa Knowles, Melissa Forbes, Damien Darling, Yoanne, Jonathan, Jovan, and John Sands, Felicity, Eric Jr. and Tarsity Collie, Crensharla Wilson, Ayden, Greer,  Kayden  Forbes.
Ten Great-Grand Children: Dylan, Andre, Lashon, Lancino, Autavia, Israelle, Treasure, Myles, Syria, Malachi
Three Daughters- in-Law: Callioppe and Vianna Gibson, Sophia Forbes
One Sister-in-Law: Florence Anderson
Two Sons- in-Law: Jonathan Sands and Eric Collie
Eighteen Nephews : Bursil, Elvis, Leonard, Michael Anderson Dunnaman Anderson James Anderson, CPL. Dennis Anderson, Lionel Anderson, Hudley Anderson, Albert Gibson, Cedric Gibson, Wilfred Benjamin, Patrick Humes, Wellington Gibson,  CPL. Charles Gibson,  Lester Gibson, Christopher Gibson Jr. ,Peter Gibson
Twenty Nieces: Attis Anderson and Iris, Ethel Mae Brown, Gloria   Sherlyn and June Anderson, Pamela Feguson Claudiebell Deveaux, Olga Meadows, Joycemae Gray, Thelma Anderson, Eloise Humes, Marsha Allen, Georgiana Moss, Pamela Gibson and Rose Strachan, Marge and June Margaret Daxon, Jennymae Johnson
Three Sisters–in– Law: Mary Allen, Ruby Gibson, Prescola Gibson
Three Grandsons– in– Law: Dino Forbes, Kendrick Knowles and Victor Wilson 
Other Relatives and Special Friends Include: P/O Lynden Leadon Of The R. B. D. F, Reverend Samuel & Deaconess Shirley Green & Family, Helena Copper & Family, Laverne Gray & Family, Brenda Ferguson, Thelma Murphy, Cynthia Gibbs, Donna Williams, Leonard Ferguson, Guendolyn Darling & Family, Cleomi Parker & Family, Agatha Thompson & Family, Sarah Collie & The Entire Collie Family, Cora Clarke & Family, Halcy Dorsett & Family, The Pollard Family, Vickie Brooks & Family, Clinton Wilson & Family, Maedawn Munroe & Family, Sharran Mckay & Family, Sheniqua Macky & Family Dr. Philip B. McPhee, , Prince McPhee, Yvonne Coakley, Wyomie Hanna & Family, Alvin Deleveaux & Family, Gilford Lloyd, Ronald Lloyd & Family, Jennimae Humes, Rose Moncur, Idell Collie, Ruth Russell, Jayford Deleveaux & Family, Alice Cleare, Unice Brown of Miami Florida, LaDonna Williams, Teserine Gray, Beryl Lloyd & Family, Rothmon Del eveaux & Family, Beauford Deleveaux & Family, Jenniemae Wilson, Olga and Mareiann Meadows, Oneal Forbes, Sandy, Valentino, Mekeko and Whitley Brown, Gregory, Jeffery and Sterling Forbes, Bruce Rahming & Family, Dr. Dawn Wilson & Family, Dr. Mitchel Lockhart & Family, Rev. Ivan Clare & Family, Shelma Winters & Family, McKallan Stubbs & Family, Alice Newton & Family, Keith Daley & Family, Basil Miller & Family,The Entire Staff at the Department of Agriculture, The Knowles, Gaitor & Bodie Families From First Street, The Zion Yamacraw Church Family, Mt. Calvary Baptist Church Family, The Faith Avenue Subdivision Family, The Entire Staff of Columbus Primary School and the Elizabeth Estates Community.
Friends may pay their last respects at Demeritte's Funeral Home, Market Street, from 10-6:00 p.m. on Friday & on Saturday at the church from 9:00 a.m. until service time.