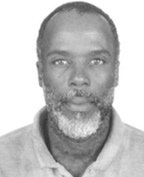 Austin ""JJ / Papa Chiz"" Chisholm
unknown - unknown
FUNERAL SERVICE FOR THE LATE AUSTIN '"JJ" 'Papa Chiz" CHISHOLM, 52, of FLAMINGO DRIVE, SEA BREEZE ESTATES AND FORMERLY OF CROOKED ISLAND WILL BE HELD ON SATURDAY JULY 28TH , 2012 at 10:00AM at CHRIST COMMUNITY CHURCH, BELLOT ROAD. OFFICIATING WILL BE PASTOR DR. DEANZA CUNNINGHAM, ASSISTED BY OTHER MINISTERS OF THE RELIGION. INTERMENT WILL FOLLOW IN LAKEVIEW MEMORIAL GARDENS AND MAUSOLEUMS, JOHN F. KENNEDY DRIVE.
FOND MEMORIES WILL LINGER IN THE HEARTS OF HIS MOTHER: REV. PROPHETESS ADA CATHERINE CHISHOLM; FATHER: AUSTIN BERTRAM CHISHOLM SR.; SISTERS: MIN. DORA CHISHOLM, JOANNE CHATELAIN; BROTHERS: ROBIN STRACHAN, RAYMOND AND KEITH MCKENZIE; NEICES:KRYSTAL SEYMOUR, LOURDES STRACHAN; NEPHEWS:NELSON AND NELSHAWN CHATELAIN AND ROBIN STRACHAN; AUNTS: JUETTA FERGUSON, VIOLA EWING, GRACIE KING, OLGA RICHARDS, MARION BROWN, ELIZABETH FERGUSON; UNCLES: WELLINGTON B. RICHARDS. OTHMAN BROWN, MAXWELL FERGUSON; COUSINS: JULIAN SR., SANDRADEE, JULIAN JR. AND SADE GORDON; WELLINGTON A. AND MICHAELLE RICHARDS, IDELLA BROWN, HUENEGAL FERGUSON, BLOSSIMAE , INGRID AND KEVIN EWING, NYOCHE ROLLE, BARBARAMAE FORBES, HAZEL PETIT, ELON AND ETHYLYN FERGUSON, PERRY, TERRY, ROCHELLE AND GRANVILLE KING; DENNIS,GREGORY,PORNELL, OTHMAN AND TERRY BROWN, TORAH ROLLE ,IVY DAXON AND FAMILY, BRICKELL EVANS, PATRICK AND DENISE MOSS, MYRTLE LARODA, STEPHANIE, CINDY AND DAVID BROWN; ELDORETTE WARD AND TASHAKA BROWN , AGNES ALLEN & FAMILY,CECELIA McKENZIE & FAMILY, REATHA CHISHOLM & FAMILY, MENERVA CHISHOLM & FAMILY;SPECIAL FRIENDS: MIN. ALDA WILLIAMS, SUPRINTENDENT PHILIP WILSON AND FAMILY, ALBERT TAYLOR, GREGORY MILLER, WELBOURNE CUNNINGHAM, DEREK "MOTUMBO" MOSS, ANDREW SEYMOUR, JAMES & ROSE ROLLE, HERMIS & JUDY CHISHOLM, TIMOTHY THOMPSON, DR. MORTIMER MOXEY, NICKETA JOHNSON,RANDFORD JOHNSON, ANTHONY LYNDEN, BERNARD LYNDEN, IAN GREENE, MAURICE FERGUSON , RUPERT GIFFORD AND THE ENTIRE CROOKED ISLAND COMMUNITY; OTHER FAMILY & FRIENDS: DR. JULIETTE DORSETTE PMH EMERGENCY ROOM,DR. DAVAUGN CURLING, R.N. MARILYN KNOWLES, JACKIE BETHEL AND BRENDALEE FERGUSON OF THE ONCOLOGY DEPARTMENT, PRINCESS MARGARET HOSPITAL; STAFF OF MALE MEDICAL # 1 - ,R.N. WENDY SMITH , GLORIA STURRUP, MONIQUE FORBES AND MANY MORE TOO NUMEROUS TO MENTION.
Viewing will be held in the Serenity Suite at Restview Memorial Mortuary and Crematorium Ltd., Robinson and Soldier Roads on Friday from 10:00am to 6:00pm and at the church on Saturday from 8:30am until service time.