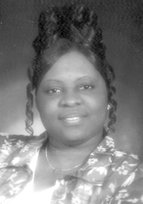 Claudette Enamae Joachim-Sands
unknown - unknown
Funeral Service for Claudette Enamae Joachim-Sands, 37, of #5 Churchill Road, South Bahamia, Freeport will be held on Saturday 28th, July, 2012 at 11:00 a.m. at Church of God Temple, Peach Tree Street Freeport. Officiating will be Prophetess Savaletta Fowler and interment will follow in the Grand Bahama Memorial Park, Frobisher Drive.
Left to cherish her memories are:
Husband: James Doral Sands
Daughters: Angel and Jasmine Sands
Father: Anthony Moses Joachim
Mother: Enamae Pinder
Step-father: Gary Pinder
Step-mother: Christine Pratt
Grandmothers: Deaconess Carmie Nesbitt and Betty Pinder.
Sisters: Thais and Cpl. 112 Valencia Joachim, Santana Pinder, Laquesta Gibson, Angel Joachim of Philadelphia, USA; Gilda Joachim and Melissa Reckley.
Brothers: Melford 'Money Like Dirt' Joachim, Maxwell Kemp Sr., Demetrius Pinder, Anthony Rahming and Daniel Joachim of Philadelphia, USA.
Aunts: Minister Tharecita Jones, Valarie Barr, KevaMae Kemp, Geraldine Pratt, Evelyn Roberts, Inez, Rosalind, Winnie, Norma, Delma and AnnMarie Joachim, Shiela Taylor, Leann Pinder, Judith Gray, Rosetta Kemp, and Andricka Taylor.
Uncles: Deacon George Jones; Farley, Everest, Franklyn, John and Edward Joachim; Kenny and Alfred Kemp; Leviticus Kemp, Mark and John Pinder, Herbert Barr, Ray Pratt Sr.
Nieces: Morgan Ferguson, Thalea Wilson, Demi Pinder, Salyna, Sabrina and Serena McKinney; Lelandra and Kayliya Johnson, Ricarjah, Zia and Randia
Nephews: Keiy-o, Devante, Avon and Maxwell Jr. Kemp; Nicholas Russell; Craven Rolle Jr., Angelo Rolle Jr., De'Markus, Christopher Bain, Jared, Osbourne and Jasarno Johnson; Makai, Ricardo and Rashawn
Cousins: Prophetess Ramona (mentor) and Ricardo Christie, Regina Edgecombe, Shakaara, Stephen and Stefon Rolle, Conrad, Lorna and Renaldo Jones, Zchavigo, Carla, Zchavajannea and Zaria Francis, Clemeka, Farece Grant, Romel Sr., Romel Jr. and Rashae Barr, Idamae Burrows, Andronette Gaitor, Brenda Smith-Rolle and Idell Smith, Kayla Sawyer, Omeka, Rayshante, Rayniqua and Ray Jr. Pratt; Eudell and Rochelle Bevans; Clarajean and Floyd Feaster, Van Sr., Crystal and Van Jr. Kemp, Alfred and Sherell Kemp; Alfranique and Ivanique Kemp, Kenny and Shirley Kemp, Eliose, Vernal, Dorie and Mavis Cooper, Brandon, Shakara and Thomas Burrows, Kelly and Kevin Edgecombe, Zion Christie, Vardo and Precious Kemp, Joann Carnie of New York, USA
Mother-in-law: Beverly Sands-Johnson-Andrews
Father-in-law: Doral Johnson
Step-father-in-law: Garvin Andrews
Grandmother-in-law: Annie Colebrook
Grandfathers-in-law: Anthniel Colebrook and Emery Sands
Sisters-in-law: Samantha Rahming, Nelan Johnson and Calvese Saunders
Brothers-in-law: Demetrius Gibson, Randy Reckley, Jackson Johnson, Tyrone Douglas
Special friend: Trazan Pinder and a host of other relatives and friends.
Relatives and friends may pay their respects at Yager Funeral Home & Crematorium, Queens Highway on Friday from 12:00 noon until 6:00 p.m. and at the church on Saturday from 9:30 a.m. until service time.