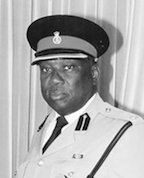 Henry Malone Thurston
unknown - unknown
Semi Military Funeral Service for Retired Deputy Superintendent of Police, Henry Malone Thurston, 70, of Silver Palm Lane, Imperial Park and formerly of Bennett's Harbour, Cat Island, will be held on Friday, July 27th, 2012 at: 11:00 a.m. at Zion Baptist Church East & Shirley Streets. Officiating will be Rev. T. G. Morrison, assisted by Rev. Anthony Sampson, Fr. Steven Davies and other Ministers of the Gospel. Interment will be made in Woodlawn Gardens Cemetery, Soldier Road.
Left to cherish his memories are his: Wife: Eugenia Thurston; Children: Jennifer Thurston, Mitchell (Kim) Thurston, Rhonda (Eric) Ingraham, Charlene (Trevor) Strachan, Sonia (Gideon) Storr, Alvin (Sabrina) Thurston, Julie (Lenny) Curtis, Dwight Thurston, Antoinette (Donovan); Jackson, Shawn (Sherry) Thurston, Valencia, Lynell, Shenique Thurston, Nigel Boodansingh; Grand Children: Jeneé Thurston, Michelle Thurston, Terica Paul-Thurston, Mitchelle & Kelly Thurston, Rontia, Erinique and Eric Ingraham, Trevor and Trevon Strachan, Krystnell, Brittany & Bria Storr, Alvin & Aaliah Thurston, Juan Ritchie, Julencia & Ashley Curtis, Danielle Thurston, Donovan Jackson, Jordan & Shawn Thurston II, and Donovan McKenzie; Great Grand Children: Margaret Rolle and Taylor Thompson; Adopted Children: Pastor Terrance & Royanne Morrison, Apostle Clifford Smith & Pastor Judy Smith, Louis Deveaux, Joann & Irving Guye, Sandra Russell, Donna Lecointe, Kevin Strachan, Walton & Cyprianna Winters, Dave & Laura Charlton, Wayne Millette, Inspector Kryslyn Skippings, Ismae Deleveaux, Vanessa & Jeffery McCoy, Shaundra & Jermaine Delancy, Joseph, Ben, Mack and David Smith, Jerome Moss, Rev. Christopher Roberts, Revs. James & Angela Palacious, Keith Dawkins, Dr. Kevin Alcena, Dellarese Rolle, Letitia Allens, Monique Daley, Mazette Hanna, Cameron Lubin, Uralee Johnson, Andrea Johnson, Barbara Bellot, Kirsch and Shantell Ferguson, Kesha Ferguson, Sharon Brown, Dion and Mark Hanna, Gennie Dean, Anthony Sampson, Retired ASP Hillard Newbold, Superintendant Ken Strachan, Dorvin Rolle, Therese Spence, Ali & Dustin Symonette, Yvette Wheeler, Mitzi Barnette, Sterling Albury and Jay Russell; Adopted Mothers: Miriam Roker & Edith Walkine; Sisters: Lydia Gordon & Leah Thurston; Aunts: Miriam Pratt, Evelyn Gibson, Ida Glinton and Carol Pratt; Uncles: Wendell Pratt & Samuel Pratt; Numerous nieces and nephews and their spouses including: ASP Glynis Demeritte and ASP Edward Demeritte (RBPF), Karen Bonamy, Floyd Jones, ASP Gloria Jennings (RBPF) & Conrad Jennings, Retired Superintendent Lloyd Gordon (RBPF) & Cynthia Gordon, Edmond, Joseph, Andrew & O'Neil Gordon, Corporal 1867 Kim Rolle (RBPF) & Leading Mechanic Jeffrey Rolle (RBDF), Vanria & Able Seaman Martin Culmer, Tammy & John Culmer, Keva & Lenoard Wood(RBDF), Carol & John Kowalski, Cindy & Michael Prescot, Nadia & Marcus Gordon, Alextine & Jeff Daxon, Lavani & Sidney Jolly, Keva & Derek Bean, Nikia & Jerome Rahming, Maria & Kevin Sands, Latia & Birchell Tucker, Erica & Dario Roberts, Crystal Strachan, Marilyn, Penny, Jane & Kim Ferguson, Helena & Orentheia Stuart, Odessa, Javanda, Rashonda, Megan & Shvante Davis, Yvonne Mackey, Shakera Forbes, Keva Adderley & Antoinette Bodie, Pedro & Nicola Ferguson, Gary & Diane Ferguson, Dwayne & Mackell Ferguson, Marco & Erica Ferguson, Joseph & Raquel Davis, Kevin, Tiffany, Rickey, Owen Mcphee, Clarice Clarke ,Calvin & Dellereena Rahming, Rodney, Samuel & Joan Ferguson, Austin Stuart, Marko, Demetrius, Danario & Emel Ferguson, Ricco, Alton Joseph, Renardo, Eric, Deshawn & Deangelo Davis, Tico Hepburn, Richard & Alfred Stubbs, Lawrence Roker Jr. & Rodney Mackey Jr., Lil Bill Williams; Brothers-in law: Alexander Stuart, Joseph, Eric and Randolph Davis, Edwin Ferguson, Charles, Edwin, Derek and Dino Pratt, Lawrence Roker & Patrick McPhee; Sisters-in law: Joan Thurston, Mavis Roker, Sharon Ferguson, Gertrude and Patricia Davis, Essie Ferguson, Shawna Davis, Laverne McPhee and & Edna Roker And host of other Relatives and Friends including: Mr.Ellison Greenslade Commissoner Of Police and Members of the Royal Bahamas Police Force; Mr. Grafton Iphill President Retired Police Officers Association, Hon. Bernard Nottage, Minister of National Security, Hon Hope Strachan Member of Parliament for Seabreeze, Hon. Carl Bethel, Godfrey and Shelia Strachan, Josephine Parker, Mike Smith , Shirley Whyms, Agnes Francois, Brezetta Nixon, Louis and Shirley Thurston and family, Mike Stubbs , Errol Thurston and family, Former Commissioner of Police Mr. B.K. and Shirley Bonamy, Kesha Ferguson, descendents of Carlista Brown , Rev. Norris and Margaret and family, Josephine Parker, Rodney Mackey, Susan Strachan, Marina Cleare, Children of Bishop William and Willamae Wilson (deceased), Rev. Carrington and Mother Sabrina Pinder, Emerald Rolle, Former Prime Minister Mr. Hubert Ingraham & Mrs. Delores Ingraham, Rev. Ezekiel McIntosh and Family, Sister Josephine Albury and Sisters of St. Martin's Monastery, Brown Nairn, Bannister and Gardiner Families. Descendants of the late Mardell Bonaby, Wayde Nixon, Rev. Alfred Stubbs and family, Janet Bowleg and family , Abner Pinder and the Spanish Wells Community, Anita Williams, Tyrone Gibson and family, Brendolph Butler, Marvin Fynes, Rev. Oswald and Betty Nixon and Family. Clarence Thurston and family, Bishop Wenith and Ismae Davis, Dr. Kendal Stubbs and Church family, Rev. Dr. J. Carl and Evangeline Rahming, Hon. A.D. Hanna , Hon Glenys Martin, Newton McDonald, Percy Smith, Wilmore and Marvin Dames Louis Alcace, Philip Srnor, Superintendent Elaine Sands & Family; Turner, Simmons, Hepburn Knowles, Stubbs, Dorsett, Stubbs, Rolle and Pratt Families.
The body will repose in the Blessed Redeemer Chapel at Ferguson's Funeral Directors, 7th Terrace Collins Avenue, on Thursday (Today) from 10:00 a.m. - 5: 00 p.m. and at the church on Friday from 10:00 a.m. until service time.