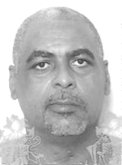 Randolph Anthony Thompson
unknown - unknown
Funeral Service for the Late Randolph Anthony Thompson, 51, of Palmetto Point, Eleuthera and formerly of New Providence, will be held on Saturday July 28th, 11:00 a.m. at Salvation Army Corp, North Palmetto Point, Eleuthera. Major Lester Ferguson assisted by Major Marylee Johnson will officiate. Interment will follow in Margaret View Cemetery, North Palmetto Point.
Cherished memories of Randolph are held by his loving and devoted mother: Ruth Hutcheson; children: Renaldo and Khadejah Thompson; sisters and their spouses: Karen Johnson, Myrtle & Michael Ferguson and Dorothy & Pedro Grant; brothers and their spouses: Alfred & Pearlene Hart, Hawett & Carol Ingraham, Munroe Thompson; Nieces: April & Alfrednette Hart, Mercedees Thompson, Jewel, Trinity & Jade Ferguson, Destiny & Olivia Grant; Nephews: Brandon & Brett Johnson, Valentino Hart, Keno Thompson, Sashan, Michael & Trent Ferguson; Aunts: Lynn Thompson, Emerald Brown, Cheryl Thompson- Cooper, Nettie Hutcheson ; Uncles: Kermit and Erskin Hutcheson; Godparents: Wesley Ingraham & Family and Mary Ingraham; God Children: Oria Pinder, Celon Cooper, Aliyah & Alisa Stuart, Simone Cooper, Perry Cooper and Keerstin Culmer; Cousins and their families: Family of the Late Elsie Neely, Family of the Late Winifred Pedican, Family of the Late Sybil Newton, Dave & Iva Cooper & Family, Family of the Late Eris Hutcheson, Family of the late Dwayne Harrison, Sean Knowles, Tracey & Joy Brown, Vanria Rolle, Sheilamae Brown, Eric Antonio, Iris Smith, Aldamae Lloyd, Maxwell Brown and their families. Other relatives and friends inclusive of but not limited to: Garth & Steve Culmer, Randy Stuart, Austin Ingraham, Vincent Deal, Ricardo Knowles, Jean Antoine, Fred Wallace, Freddie Knowles, Andrew & Rita Bethel, Terrance Sands & their families. Mrs. Rose King, Elvis & Freda Cooper, Danny Cooper, Joseph & Alfred Deal, Errol Ingraham, Hon. Philip M. Bethel, Eloise Thompson, Lovella Culmer, Maybell Gibson, Shirley Gibson, Mavis Johnson and their families. Sheila Cooper, Catherine & Jonathan Johnson, Wellington Johnson, Hank Johnson & their families. Patrice Poitier, Rev. Ramelda Carey, Pauline Curry, Evangelist Catherine Roker, Zelma Bethel, Spence Thompson, Inez Cooper, Paula Bethel, Marie Stuart and their families. The Management & Staff of Tommy Guy and Novus Construction Company Ltd., Management and Staff of Eleuthera Block. Special thanks to Nurse Ella Anderson, Nurse Celestine King, Nurse Audrey Williams, Dr. Sidney Smith, Dr. Fredrick Smith, Nurse Debbie Deal and Nurse Freda Cooper. The Doctors and nurses of Princess Margaret Hospital ICU, Male Surgical and Male Medical Wards, the staff of the Palmetto Point and Governor's Harbour, Clinic The communities of Palmetto Point and Governor's Harbour and many others too numerous to mention.
Friends may pay their last respects at Bethel Brothers Morticians, Nassau Street on Thursday from 12:00 noon to 6:00 p.m. and on Friday from 10:00 a.m. to 11:30 a.m., and at the church in North Palmetto Point from 7:00 p.m. until service time on Saturday.