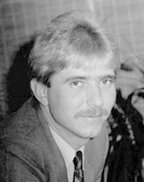 Andrew ""Twerps"" George Russell
unknown - unknown
DEATH NOTICE
Andrew George "Twerps" Russell, 58, of Harmony Hill, Nassau, passed away peacefully at home on Friday June 22, 2012.
He is survived by sisters: Charlyne Acree and Deborah Finger; brothers: Gregory and Michael Russell; sisters-in-law: Nora and Kim Russell, brothers-in-law: Robert Acree and John Finger; nieces: Jennifer, Melissa, Kristy and Madison; nephews: Christopher, Cory and Lucas; grand niece and nephew: Ryleigh and Ryder; numerous other relatives and friends especially: Mark Halliday, Norman Hettle, Tommy Brown and Rick and Roger Eldon.
Special thanks to: Dr. Margo Munroe, Dr. Ian McDowell, Dr, Ian Kelly, Dr. Karen Rowe and all the nurses , who cared for him, Ernest and Gerda and to Judy Johnson, who so loving took the greatest of care and sang and prayed with him daily.
Andrew spread your wings you are free to fly. We will miss you.
Arrangements are being handled by Butlers' Funeral Homes and Crematorium, Ernest and York Streets.