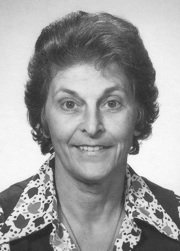 Beatrice Elise Brown
unknown - unknown
A Memorial Service for Beatrice Elise Brown will be held at Ebenezer Methodist Church, East Shirley Street, Nassau, The Bahamas on Wednesday, 4th July, 2012 at 5:00 p.m.
Rev. Godfrey A. Bethell and Rev. Charles A. Sweeting will officiate.
Beatrice Elise Brown nee Scott (fondly known as Bea & Beady), departed suddenly on Saturday, June 23, 2012 at her home. Bea was the daughter of Mildred Elise Northrop-Scott and Thomas Gould Scott of Ridgefield, Connecticut.
At a young age, she started her own beautician shop known as "Bea's Beauty Box" in Ridgefield. Surrounded by three brothers, she quickly learned how to be independent and run the show. There was nothing that Bea could not do or learn to do. Determination was something she was very familiar with and she was always the rock and available to help and do for anyone. It always amazed us how Bea found her way to this little Island from Ridgefield, about 60 years ago. She travelled here on holiday and was introduced to Donald, her future husband. She moved to Nassau and has been here for over 56 years. Even though Bea was not a native, she embraced the culture and way of life here to the fullest, whether on the boat, at the boatyard, out at the Lake, on the Nassau Yacht Club Race Committee or in the kitchen - she considered herself very much 'Bahamian' and a constant support of Donald.
She began working at the Beauty Shop at the Montague Hotel and eventually, over the years, spent time at Brown's Boat Basin in the office in support of Donald and Sidney. She and Elsie enjoyed many years being a part of the business. Bea was one of the Founding Members of the American Women's Club here in Nassau. She was an avid bowler and participated for many years with the Home Furniture team at the bowling alley when it was above Home Furniture in Palmdale. One of her favorite hobbies was crotchet and in her earlier days, crotched The Lord's Prayer, Psalm 23 and doylies. Later on, she enjoyed being creative with her afghans, making over 100 of them and all an original. She was always in the kitchen, cooking and baking for everyone, especially those yum-yum cakes.
Bea is survived by her sons, Thomas Morgan Brown and Donald Scott Brown, Sr; two daughters, Marie Elise Souder and Mary Jane Sands; son-in-law William Sands, daughters-in-law, Linda Thompson Brown and Cathy Smith;grandsons, Donald Scott Brown, Jr., William Christopher Sands and Raymond Morgan Souder. Granddaughters, Ashley Patricia Brown, Melissa Brittany Sands and Brittany Elise Souder; brother, Francis Scott, sisters-in-law, Thelma Knowles and Jane Scott and Ellen (Babe) Scott. Brother-in-law, Christopher L. Brown. ; numerous nieces, nephews and relatives, both here in Nassau and in Connecticut.
With Bea's giving ways, love and support, she also leaves behind many, many dear friends - friends of all ages and walks of life, especially Vilma, Sonia and longtime companion Naomi Curtis.
Bea was predeceased by her husband, Donald Morgan Brown, after 55 years of marriage, a daughter, Kathleen Agnes Brown; son-in-law Bruce Raymond Souder; her brothers, Donald Scott and Harold Scott her brothers-in-law, Sidney Brown and Jack Knowles; her sisters-in-law, Elsie Brown, Marian Scott and Helen Brown.
Mom was the solid foundation of our family and will be sorely missed but there is comfort knowing she has gone to be with Dad.
The family would like to thank each and every one of you for your thoughts, prayers, visits etc. during this difficult time.
In lieu of flowers, donations can be made in Bea's memory to BASRA, P. O. Box SS-6247, Nassau or Kingdor Parkinson's Foundation, P. O. Box N-1463 Nassau.