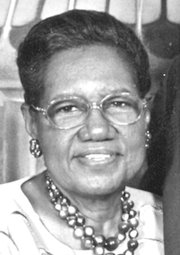 Elsie Louise Chandler
unknown - unknown
Funeral Service for the Late Elsie Louise Chandler, 82, of Penny Bank Lane, will be held on Saturday June 30th, 11:00 a.m. at Holy Cross Anglican Church, Highbury Park. Rev. Frederick Kelly and Rev. Fr. Norman Lightbourne will officiate. Interment will follow in Lakeview Memorial Gardens, John F. Kennedy Drive.
She is pre-deceased by her husband: Dorton Chandler; and survived by her sons: Victor, Jeffrey, Kellman, Vernon, Ricardo, Fransico and Valentine Chandler and Robert; daughters: Dianne Thompson and Sophia Chandler; sisters: Zelia Bethell, Elizabeth Lockhart, Constance Taylor and Diedre Scavella; brothers: Louis Dames and Ronald Tinker; sisters-in-law: Melanie Thompson, Shirley Clarke of Barbados, Mardel Brathwaite of New York and Judy John of Montreal, Canada; brothers-in-law: Marvin Bethell and Corliss Chandler, of New York; daughters-in-law: Pamela, Jennifer, Courtney and Shenik Chandler; son-in-law: Plato Thompson; grandchildren: Tivona, Aria, Whitni, Aaron, Ashton, Jarvin, Vernon II, Vernique, Monique, Monica, Takara, Kalib, Francisco, Ricardo and Matthew Chandler, Sanea Colebrooke, Caden Rolle, Terrel Williams and Plato and Caron Thompson; great grandchildren: Terrel II, d'Mauri and Stephan; god children: Tony Rahming and Natasha Decosta; other relatives and friends including: Rosemary Archer & family; Carlton Jones & family; Hugh O'Brien Massiah & family; Harold Cole and family; Summer Bannister and family; Lorna Hunte; Joyce Pinheiro; Hazel Rochester & family; Mavis Moncur and family; Ronald Jennings & family; Eric Cooper & family; Hazel Hamilton & family; Priscilla Stuart & family; Daisy Simmons; Father Norman Lightbourne; Reverend Alvardo Adderley; the congregation of Holy Cross Anglican Church; Reverend Frederick Kelly and family; the congregation of Epiphany Methodist Church; Bishop Laish Boyd and family; The Barbadian Bahamian Association; and numerous other relatives and friends.
Friends may pay their last respects at Bethel Brothers, Nassau Street on Friday from 10:00 a.m. to 6:00 p.m. and on Saturday at the church from 10:00 a.m. until service time.