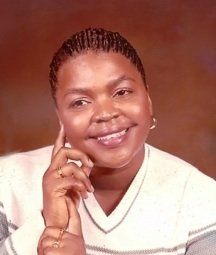 Helena "Leanie" Theresa Dean
unknown - unknown
Diamond Funeral Service for Helena Theresa "Leanie" Dean age 51 years of Caribbean Gardens, off Gladstone Road and formerly of Saxon Way, Mason Addition will be held on Saturday, June 30, 2012 at 11am at New Testament Baptist Church, Dolphin Drive and New Testament Way. Pastor Dr. David L. Adams and Pastor Kwame L. Selver will officiate and burial will be in Woodlawn Gardens Cemetery, Soldier Road.
The Radiance of this "Diamond of A Gem" will always glow in the hearts of her:
Two Sons: Jamiko Dean and Valentino Williams;
One Daughter: Glenkiah Dean;
Two Grandsons: Mathias Dean and Micah Paul;
One Granddaughter: Jamika Dean;
One Adopted Daughter: Shirlvena Allen;
One Adopted Grandson: Archie Rolle;
Two Brothers: Alexander and Brendon Dean Sr.;
Three Sisters: Denise Bryant of Ft. Lauderdale, Florida, Telvern Dean and Valderene Fraser-Parker of Atlanta, Georgia;
Six Nephews: Brendon Jr., Bernard, David and Michael Dean, Trent Strachan and Ephesus Williams;
Nine Nieces: Craigteria, Johnell, Inderia and Rachael Williams, Lachara Knowles, Lakeisha Carey, Brendisha, Brendena and Nicole Dean;
Three Uncles: Mervin Sr. of West Palm Beach Florida, Hubert and William Dean Sr.;
Four Aunts: Alsaida Hanna, Marina Dean, Isamae Smith of Cat Island and Dornell Fernander;
Two Brothers-in-law: Freddie Bryant of Ft. Lauderdale, Florida and Darnell Parker of Atlanta, Georgia;
Three Sisters-in-law: Terry and Madelaine Dean and Winifred Williams;
Numerous Cousins Including: Dr. Kevin Alcena, Christine Wemyss, Pete, Larry, Rufus, John, Vernal and Mervin Smith, Nurse Eulease Brooks, Nora Newry, Bennett Gibson, Sharon, Judy, Janice, Sidney, Answell, Antoinette, Van and Paula Johnson, Patsy, Cheryl, Lillian, Kathleen, Monica, Merlinda Evans, Mavis Basden, Miriam Mackey, Lillie McDaniel, Dellia Finney, Naomi Belk, Mervin Jr., Ethel, Merlene, Simon, Willamae, Arnold, William Jr., Janus, Janet, Wendy and Edward Dean, Cynthia Beckford, Pastor Gladstone and Minister Alexander Thurston, Minister Mildred Dorsette, Minister Neville Seymour, Geraldine Thurston-Williams, Francina White, Patrice Parker, Edward, Prince and Luther Hanna, Olive Knowles, Leroy, Cleveland, Haywood, Sidney and Denise Poitier, Elma Miller, Joanna Sanders and Sherry Armaly;
Other loving family and friends including: Tyrone Sands, Hugh Strachan, Linda Stubbs-Wisdom, Barry Wallace, Deborah Nesbitt, Shantel Beckford, Colleen Carter, Stephanie Bullard, Melissa Lockhart, Ms. Mary, Ms. Reilly, Mrs. Neily and their families, the entire Farrington, Clarke, Pinder and Smith families of Hatchet Bay Eleuthera, Saxon Superstars, Fort Fincastle and Mason Addition Families.
Visitation will be in the "Emerald Suite" Emerald Ridge Mortuary & Monument Company Ltd. #20 Claridge Road on Friday, June 29, 2012 from 1pm to 6pm and at New Testament Baptist Church, Dolphin Drive and New Testament Way on Saturday, June 30, 2012 from 10:00am to service time.