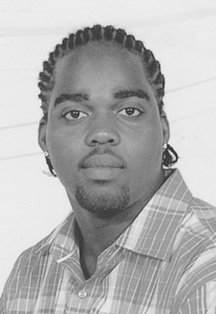 Anario Javian Curtis
unknown - unknown
Funeral Service for Anario Javian Curtis age 25 of Kennsington Gardens who died on April 24th 2012 will be held on Saturday at 11 a.m. at Mt. Nebo Union Baptist Church, Marshall Road off Baillou Hill Road South. Officiating will be Rev. Dr. Charles E. Rolle assisted by Other Ministers. Interment will follow in Woodlawn Gardens, Soldier Road.
He is survived by his Mother: Anne Wallace; his Father & Step-Mother: Emmanuel & Laverne Curtis; Grandmother: Verva Wallace: Sisters: Samantha McIntosh and Idelia Curtis; Brothers: Akeito, Camarie, Jason and Ishmael Curtis; Aunts: Ruby Curtis, Eurice and Emmazell Ferguson, Eunice, Fearlease and Lashan Wallace; Uncles: Merrill and Linville Curtis, Bishop Christopher Ferguson, Calvin, John, Percy and Lester Wallace; Nieces: Jabez and Samia McIntosh, Charlesetta Mathurin and Cha'mel Curtis; Nephew: Adeyen Curtis; Brother-in-law: Garth McIntosh; Sister-in-law: Asternique Curtis; Numerous cousins including: Phicol, Chaneil, Johnita, Patrico, Erica, Demarcio, Davontay, Deniteria, Lester Wallace Jr., KeAndra, Perron Cummings, Euthea, Damian, Dachun and Dashunique Brown, Javal, Lasheca, Jaynique Ferguson, D'Abrelle Deveaux, Chandra, Charan and Chazara Rahnming, Theres, Deandrea, Damon, Crystal, Laverne and Cephas Cooper, Miriam, Inah, Candice, Sherry, Birdie, Wilistene, Sherry, Linville Jr., Linda, Arnette, Randolph, Rodney, Beauford, Trevor, Homer Jr., Charles, Dorlan and Priscilla Curtis, Marvaret, Garin, Dereck, Karen and Anastacia Ferguson, Jackie, Lavenia, Jennifer, Renaldo, Udena, Bebiejoe, Devayne, Iziah, Alex, Kevette, Kaye, Edison, Bennie, Sandy, Kevin, Chavano and Chakera; Godson: Kevin Cunningham Jr., Special Friends: Mrs. Winsome Miller, Alvena Mortimer, Mary Taylor, Eunice Roxbury, Christine Hepburn, Agnes Carey, Mrs. Judith Sherman, Nikito Lewis, Damian Robinson, Elizabeth Grant, Henry Bannister, Stanley Fulford, Travis Cooper, Paul, Lubin, Eggie, Alexandra McKenzie, Daniesha Moss, Danielle Moss, Zorian Munnings, Mrs. Sargeant, Mrs. Pinder, Dino, Calvin and Mr. Collie. Godparents: Jackie and Wellington Woods, Sadie and Fearlease Wallace, Austin Weeks, Eric Sweeting, Madlyn Wells, Muriel Dawkins; Other Relatives & Friends: The Wallace, Bridgewater, Munroe, Moxey, Lockhart, Armbrister, Curling, Hepburn, Maycock, Wilson, Nesbitt Families, Pastor Rolle and The Mt. Nebo Family, The Golden Gates FNM Campaign Team, The National Literacy Staff, Friends at Super Value, Blue Hill Road, The Basketball Friends, The R. M. Bailey Class of 2004 and the Kennsington Gardens and Ragged Island Communities.
Friends may pay their last respects at East Sunrise Mortuary, #36 Rosetta Street, Palmdale from 10 a.m. to 6 p.m. on Friday and again at the Church from 10 a.m. on Saturday until service time.