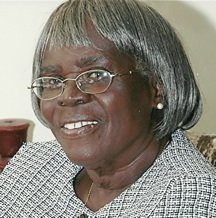 Minerva "Grammy" Rosana Benson
unknown - unknown
Minerva Rosana "Grammy" Benson, 77 years, a resident of North Victoria Hill, San Salvador, Bahamas died at the Princess Margaret Hospital on Monday, May 28, 2012.
Cherished memories are held by her four children: Alvin Levarity, Merriel Joanne Edgecombe, Angela Perrin and Clayton Bastian; three sisters: Ruth Nairn, Marina and Juanita Benson; two brothers: Frederick and Stafford Benson; and a host of other relatives and friends.
Home-Going celebration will be announced at a later date.