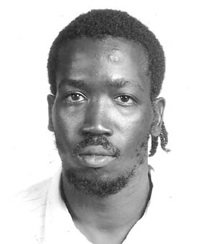 Philliario Simmons
unknown - unknown
Funeral Service for Philliario Simmons age 26 affectionately called "Philly" of Poodoleo Street, who died May 19th at the Princess Margaret Hospital will be held on Saturday 11:00 a.m. at Church Of Christ Eight Street The Grove. Pastor D. W. Dorsette assisted by Minister Karol Mackey will officiate and interment will follow in the Southern Cemetery Cow Pen and Spikenard Roads.
Left to cherish his memories are:
His father: Leslie Simmons
His mother: Earthamae Burrows
Daughter: Phillirenique Simmons
Long time friend: Shantell Farrington
Brothers: Pedro Davis and Timothy Butler
Grand-mothers: Lilymae Burrows and Mazie Simmons
Uncles: Randon, Elvis, Elroy, Philip, Trevor, Kirk and Dwight
Aunts: Jacqueline Burrows, Shirley, Virginia, Eleanor Hutchinson, Vernnad and Marzela
Grand-uncles: Charles Rolle, Dr. H. A. Simmons, Rev. Dan o. Simmons, Berkley Morris, Kennal and Pedve Simmons, Ivan Rolle and Jonathan Dorsette
Grand aunts: Francina Storr and Madlinc, Zelma Simmons
Numerous cousins: Domeshia, Tamika, Edkino, Jasmine, Jefferson, Jaquan, Elterio, Audley, Ashton, Iesha, Moesha, John, Donovan, Arliton, Kim, Sherman, Melvin, Harvey, Norman, Hermis, Aaron, Jacob, Hubert, Audey, Sidney, Debres, Brenda, Jermaine, Carla, Cola, Patrice, Dell, Cheryl, Charlene, Sarah, Deka, Freddy, Jeanne, Dario, Vardo, Mordelle, Rev. Archie Burrows, Annet, General, Tunka, Inez, Ethamae and Clema Burrows
Other Relatives and Friends include: Honorable Glennis Hanna Martin, Mrs. Black, Pastor D. W. Dorsette, Bill Smith, Kevin Ferguson, Giovvannie Barr, Shantell Barr, Charles and Janett Bain, Charles Moss, Thomas Butler Sr., Mrs. Stevens, Erick Sinor, Moesha Cleare, Margaret Dawkins, Firstina Seymour, Brandon, Patrice, Freddy, Crystal, Francina, Stanley, Ivadell Farrington, Iesia, Nrado, Rickell, Jefferson Brown, Ethel Knowles, Cecilia Hutchinson, Iesia Saunders, Keishe, Thesavine, Geneva, Beaulah, Suzemae, Barnara Dorsette Hart, Casino Puncho, Poodoleo Street, Key West Street and Mason Addition's families and others too numerous to mention.
Relatives and friends may pay their last respects at THE CHAPEL OF MEMORIES COMMONWEALTH FUNERAL HOME COMMONWEALTH FUNERAL HOME INDEPENDENCE DRIVE on Friday from 10:00-1:00 p.m. and at the church on Saturday from 10:00 a.m. to service time.