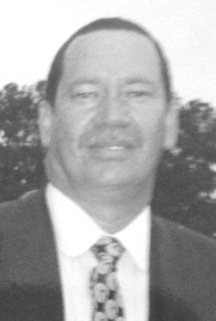 Donovan Christopher Cartwright
unknown - unknown
Funeral Service for Donovan Christopher Cartwright age 58 years old of Poinciana Drive, Freeport, Grand Bahama and formerly of Hard Bargain, Long Island who died at Doctor's Hospital on Thursday, November 22nd, 2012 will be held on Sunday, December 2nd, 2012 at 12:30pm at Living Faith Seventh-day Adventist Church, Old Trail Road. Officiating will be Pastor Paul A. Scavella, assisted by Pastor Peter Joseph and Pastor Kent Price. Interment will follow in Western Cemetery, Nassau Street.
Loving Memories will linger in the hearts of his Wife: Jacqueline Cartwright; Mother: Evelyn Cartwright; Six Sons: Daziano, Dialo, Dorian and Delano Cartwright, Shayne Bowe and LaSalle Thompson; Grand Children: Dayzha, Dondray, Daylen, Dawson, Kai Cartwright Shantrell, Sheldon, Shaquille Bowe; One Brother: Patrick Cartwright; Seven Sisters: Marilyn Clarke, Sylvia, Andrea, Christine, Carol Cartwright, Nora Cooper, and Kayla Predelus; Three Daughters in law: Danica & Cherise Cartwright & Michelle Bowe; Nine Brothers-in-law: Herbert Clarke, Osborne Cooper Jr., and Reina Predelus. Gerald Burke (Punchie), Mark, Marcus, Allison, Greg Bowe & David Turnquest; Thirteen Sisters-in-law: Willacine Cartwright, Anita, Janet, Ginger, Donnalee, Renee, Mary, Heather, Tammy, Blanche Bowe, Juliet Turnquest & Joan Carey; Eight Nephews: Terrence Cartwright, Herbert & Christopher Clarke, Neil & Carvel Rolle, Gerard Cartwright, Osborne Cooper III, Ryan Predelus; Eight Nieces: Patrinique Cartwright, Natasha Chatelain, Shantel Russell, Keneka Woodside, Heidi Swan, Nordaina Cooper, Dewhitney Farrington, Kallista Predelus; Eight Aunts: Rosa, Gaudia, Maria, Angela , Agnes, Lena, and Ivis Cartwright and Agnes Saunders; Two Uncles: Uriah and Vincent Cartwright; God child: Kera Kemp; A host of other relatives & friends including the Cartwright, Major & Martinborough Families of Long Island & Grand Bahama, Late Burke & Thomasina Bowe Family of #206 East Street South , Late Gerald Dean Family, Late Stanley & Emma Bethell Family of South Beach, Late Mariana Brennen Family of Bain Street, Peter Bowe & Family, Inez Dorisant Family; Special Thanks to: EPIC Bahamas and AmSpec Bahamas Family, Friends: Aaron Pinder, Reginal Adderley, Vernal Martinbourgh, Dolly Ferguson, Deanne Jones, Pablo Armbrister, Elkin Knowles, Jennie Colo, Barbara Chotoosingh, Rudy Sawyer, Dr. Hayward Romer, Nurse Inza Young, Pastor Paul Scavella, Wildwood Lifestyle Center in Wildwood Georgia, Burke Gerald & Mary Bowe.
Viewing will be held in the Serenity Suite at Restview Memorial Mortuary and Crematorium Ltd., Robinson and Soldier Roads, on Saturday from 9:00am to 5:00pm and again on Sunday at the church at 11:00am until service time.