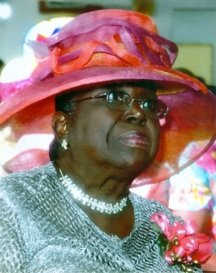 Nathalie Jane Russell-Hutcheson
unknown - unknown
Topaz Death Notice For Retired Teacher Mrs. Nathalie Jane Russell-Hutcheson age 90 years of #40 Fifth Street, Coconut Grove, taught her last class and played her final anthem, at the Princess Margret Hospital on Sunday, November 25, 2012.
She is preceded in death by her husband "Rev. John Mervin Hutcheson", parents Albert Eugene and Beatrice Russell "Nee Johnson", grandparents Rev. Robert T. and Alice Johnson "Nee Carey", James and Phoebe Russell "Nee Huyler".
The Radiance of this "Pearl A Gem" will always glow in the hearts of her:
Eight Sons: Chief Customs Officer Albert (Darnell), Retired Assistant Commissioner Police Kirkland (Claudette), Fr. Whitfield (Bernadette), Maurice and Police Sergeant 503 James I (Robyn), Jerry (Sharon), Edward (Vanrea) and Victor Hutcheson;
Four Daughters: Maria Ferguson (Matthew), Andrea Pinder (Robert Sr.) and Nellie Strachan (Kenneth) and Janet Hutcheson;
Eighteen Grandsons: Robert Pinder Jr., Police Constable 2695 Trevor (Janelle), Leslie (Davette), John, D'Angelo, Denzel, James II, Dannard, J'Juan, Michael and Raymond Hutcheson, Kovan Sr. (Georgette), Kenton Sr. (Tanisha), Marco and Marvin Strachan, Andrew Khan, Anthony and Kellen;
Nineteen Granddaughters: Candida, Shenique and Dr. Sherelle Ferguson, T'Shura Bowser (Pastor Braxton Sr.), Woman Police Constable 3011 Makelle and Shamila Pinder (Adrian), Kendria Smith (Horatio), Nicole, Maurisa, Uriza Jane and Sherelle Hutcheson, Sharmaine Griffin (Kirk), Tanya, Anishka, Melissa, Zina, Alena, Victoria, Miaeda and Leah;
Fourteen Great Grandsons: Braxton Jr. and Christopher Bowser, Tinage McGee, Kovan Jr., Kenton Jr., Kovin and Christian Strachan, Ashton and Amar Hutcheson, Israel Griffin, Lebrano McPhee and Dominic, Aaron and Janario Thompson;
Ten Great Granddaughters: Armani, Kiara and Kovanne Strachan, Tremia, Tyanne-Joy, Alail and Angelane Hutcheson, Tiara Bowser, Aneia Johnson and Albrea McPhee;
Numerous: Nephews, Nieces, Grandnephews and Nieces;
Adopted Brother: Howard Miller;
Special Sisters: Edna and Inez Russell, Maxine Adderley, Cynthia Duvalier, Dora Dean, Marion Hutcheson, Lenora Ferguson, Iva Patton, Rosie Samuda, Maria Thompson and Muriel Sears;
Other loving family and friends.
Topaz services in incomplete at this time, check website for updates!!