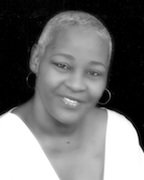 Denise " "Nee"" Anita Smith Baker
unknown - unknown
Funeral Service for Denise Anita Smith nee Baker, 49, a resident of Almond Drive, Sea breeze will be held on Saturday, September 22nd 2012 at 10:00 a.m. at St. Joseph's Roman Catholic Church, Boyd Rd. Officiating will be Msgr. Alfred Culmer. Interment will follow in St. Joseph's Catholic cemetery, Tyler St.
Left to cherish Denise's memories are her Husband: Donald Smith; Children: Andra (Jamalaya)
Roberts, Rashad and Malik Smith; Mother: Majorie Baker; Brothers: Gary Cooper, Jerome Darville, Stephen, Gregory, Cyril and Norman Baker; Sisters: Noram Joseph, Theresa and Kim Baker; Brothers-in-law: Peter Smith, Christopher and Anthony Pratt, Don Butler, George Hamilton, Pascal Joseph; Sisters-in-law: Tanya Pratt, Tamica Major, Antoinette Pratt, Donnette Moss, Laverne Cartwright, Linda Cooper, Florence Darville, Fredericka, Genesta and Lamaya Baker; Uncles: Cyril Baker, Fred "Papa" Smith; Aunts: Catherine and Naomi Smith, Ruby Thurston, Ruth Pratt and Louise Smith; Godmother:
Percis Adderley; Adopted sister: Yian Weech-Allen; Nieces and Nephews: Sharin, Teniqua, Gary Jr., Shea-Fig and Sand Cooper, Latoya, Jerome, Sheniqua Darville, Kendal Rolle, David Hoyte, Jermaine, Jamal, Jemelia and Justice Baker, Phenice Hanna, Lamar and Joradan Baker, Vancas Devante, Vandia Williams, Payton Joseph, Michael Brennen, Chardai, Charles and Chaz Johnson, Tamaraid Major, Donovan, Devon and Darron Moss, Tanaj and Tajé Cartwright, Petra, Patricia and Peter
Smith, Kristen and Krishé Pratt, Antonia Curry, Anthony and Antoini Pratt, George Hamilton Jr., Kent and Raynell George Smith; god children: Ebony Edwards and Ethan Edwards; Other family and friends: Staff of Nurses Now, Oncology Consultants Ltd. Nursing Staff or the 4th Floor of Doctor's Hospital, Shelly Rolle, Willame Deveaux, Martha Pinder, Kay Judith and Kevin Hinsey, Bryant, Janet Hanna, Brad Smith, Arthur Deal, Christine Russell, Ian Ingraham and family, Sea breeze community especially the Almond Grove Circle, Naomi Barr, Monica Fox, Staff of Attorney General Office, Staff of South Beach Police Station, Paula Clarke, Staff of Family Guardian and British American Insurance Companies, Hubert Cheryl and Cyril Minnis, Brenda Roberts, Dwight Baker, Bernard Baker, Michael, Christine Baker, Helen and Answorth Brown, Dominique Dean, Yasmin Powell, Cheryl Lightbourne, Lise Bartlett and family, Nell Knight, Letitia Fearson, Father Simeon Roberts, Hanespha Baker, Rashaeeda Baker, Sam and Joanna Williams, cousin Ruth Pratt and family, Geordan and Nyá Allen, Barbara Dorsette, Pamela Hunt and Kenya Edwards.
Friends may pay their last respects at Gateway Memorial Funeral Chapel/Vaughn O. Jones Memorial Center, Mount Royal Ave. and Talbot Street, on Friday September 21st, 2012 from 10 a.m. to 6 p.m. and at the church on Saturday from 8:45 a.m. until service time.