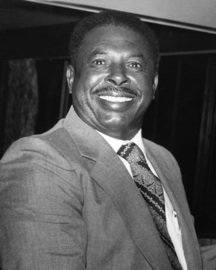 Bursel Waldays Gibson
unknown - unknown
Funeral Service for Bursel Waldays Gibson, 84 years of Nelson Road, Mount Pleasant East, and formerly of Savannah Sound, Eleuthera, will be held on Saturday April 6th, 2013, 10:00 a.m. at Zion Baptist Church, East & Shirley Street. Rev. T.G. Morrison assisted by Rev. Ulric Smith, Rev. Anthony Sampson and other associate Ministers and Deacons will officiate. Interment will follow in Lakeview Memorial Gardens, John F. Kennedy Drive & Gladstone Road.
Bursel is survived by his loving and devoted Wife: Patricia Gibson; two (2) Sons: Lorenzo and Lyrone Gibson; One (1) Daughter: Virginia Fulford; one (1) Sister: Ethel Capron; Aunts: Angela Simmons and Louise Gibson; Brothers-in-Law: Leroy and Charles Capron; Sisters-in-Law: Shirley Jones of West Palm Beach, Florida, Ruth Taylor of Cocoa, Florida and Rose Thompson; Daughters-in-Law: Angela and Clarice Gibson; Son-in-Law: Glenn Fulford; Grandsons: Bursel Jr. (Anisahka) Gibson, Kwasi Gibson, Kareem, Twari, Durran and Tarran Fulford; Grandsons: Laurel Gibson and Lynette (Marvin) Storr; Great-Grandchildren: Bursel III, Brittany, Sadasha, Aden, Marleek, Martayo, Christen, Durran Jr, Tershae, Dayna, Tirahh, Twari Jr, Tarran, Terran, Tasia, Duecari; Nieces and Nephews: Charles Capron III, Patricia (Trevor) Bethel, Veronica Capron, Ricardo (Ethel) Capron, Cassandra (Brian) Adderley, Tala (Quentin) Mackey, Mikiko McPhee, Trevisa (Cory) Hepburn, Danielle & D'Nae Capron, Denise Albury, Travis Bethel, Ricardo Jr. & Ricarra Capron, V. Brain, Anthony & Caleb Adderley, Sidney Mackey, Alexander, Barry, Terry and Kirk Sands, Patricia Rolle, Debbie Hanna, Valdez & Henry Clarke, John, Charles & Douglas Gibson, Leona, Jiletta, Nena, Mary, Tony Issacs, Kelly Weston, Phillip Robinson, Deborah & Jackie Weston of Seattle, Washington. Numerous relatives and friends: The late Coburn Sands & Family, Rodger & Family, The late Charles Sawyer & Family, Louise Gibson & Family, Winston & Barbara Chong & Family, Savannah Sound Family, Ada Johnson & Family, Maxine King & Family, Kenneth Gibson, Gerald Gibson, Rosalie Neymour & Family, Bently & Peggy Hall & Family, Joe & Emily Glass, Josephine Davis & Family of West Palm Beach, Herman & Julie Hooper & Family, Rosemary Thompson & Family, Ena Dean & Family, Rose Fountain & Family, Thelma Deveaux & Family, Charles Hudson & Family, Charles Cooper & Family, Leonard Major & Family, Blanton Gibson & Family, Richie Williamson & Family, Norma Butler & Family, Pear Dale Family, Management & Staff of New Providence Development Co., The Coakley Family, The Nairn Family, Patrick & Eula Edwards, Rosalie Strachan & Family, Elva Manning & Family, Carpet & Cabinet World Family, Bethel's Trucking Family, Lorrine & Muggie Gibson & Family, Era Thompson, Verona Joseph, Alexander Joseph, Vivian Joseph, Quincy Joseph, Pastor Valentino Williams, Cedric (Ricky) Watson, Maurice Bowleg, Kirk Williams & Family, Avilu Williams & Family, Lewi Williams & Family, Olga Dickinson & Family, Neville Bethel & Family, Vincent Ferguson & Family, Ruby Butler & Family, David, George, Lil Dudley, Pino , Kendal Capron. Special thanks is extended to Rodger (Claire) Sands, the Ambulance Department of Princess Margaret Hospital, Accident & Emergency team, Dr. Franklyn Saunders, Dr. Deniel Williamson, Dr. Keith Rivers, Dr. Charles Rahming, Nurse Rica, Dr. Conville Brown, Dr. Francis, Nurse King of The Heart Center, General Practitioner Clinic, Dr. J. Thompson, Dr. Daville, Rev. T. G. Morrison, Rev. Anthony Samson, Rev. Ulrick Smith and the entire family of Zion Baptist Church, East & Shirley Streets.
Friends may pay their last respects at Bethel Brothers Morticians, #32 Nassau Street on Friday from 10:00 a.m. to 6:00 p.m. and on Saturday at the church from 9:00 a.m. until service time.