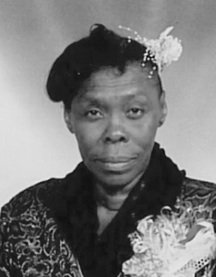 Charlotte Agnes McKenzie
unknown - unknown
Funeral Service for Reverend Charlotte Agnes McKenzie, age 85 years, of Springfield, Fox Dale, formerly of Mangrove Cay, Andros, will be held on Saturday April 6th, 2013 at 2:00 p.m., at Church of God Convention Centre, Joe Farrington Road. Officiating will be Bishop Victor Johnson assisted by other ministers. Interment will follow in Woodlawn Gardens, Solider Road.
She will be greatly missed but always remembered by her sons: Caiaphas, Leroy, Prince, Paul, Nathan, Esau and Moses McKenzie; her daughters: Lucille Forbes and Sherilyn Green Fletcher; adopted daughter: Mary Moxey; step daughter: Mitzie Barnett; twenty-two grandchildren: Meko, Shanria, Kemuel, Kendra, Bianca and Mario Peterson, Latoya, Deangelo, Emmanuel, Laroy, Deltera, Vanessa, Keishan, Marcus, Dearana, Tyreke, Kerianno, Dakeirra, William, Tiffany, Natalie and Jalissa; six great grandchildren; two brothers: Philip, Adolphus Jr. and Duke Green; three sisters: Ethel Green-Miller, Naomi Green-Marzel and Georgina Pennerman; son-in-Law: Minister Everton Fletcher; two daughters-in-law: Ruthmae McKenzie and Simone McKenzie; two brothers-in-Laws: Salisbury Gardiner and Franciel Marzel; three sisters-in-Laws: Edith Lloyd, Dolly Saunders and Margaret Edgecombe; nephews: Julius, Philip Jr., Jeffrey, Thorny, Peter, Livingston, Wellington, Solomon, Mickel, Johnny, Tony, Jason, Jeremy, Kelloy, Cyril and Cleveland Green, William Allen, Ivon Moss, Ricardo and Gregory Pennerman, Nehemiah Robertson, Chris and Devon Kemp, Brightman Moxey, Robert Clarke, Cedric Rolle, Anthony Green, Basil Saunders, Kirkwood and Stanford Sweeting, Johnny, Eurick and Keith Mckenzie nieces: Minister Gloria Ramsey, Joyous Johnson, Joann Clarke, Lillian, Oveta, Gwendolyn, Brenda and Peggy Green, Joyce Green, Mary and Janet Allen, Nancy Knowles, Sabrina Scavella, Dr. Shanna Johnson, Charlene, Pinky and Samantha Gardiner, Melinda Newbold, Dr. Tamarah Pennerman-Carey, Lilly Sturrup, Lulamae Strachan, Geneva Fines, Daisy Simmons, Lauren Saunders, Marion Bethel, Princes Williams, Edna Munnings, Lillis Stuart, Loretta Collins, Juanita Romer, Sandra Clarke, Cora Ferguson, Judy Simon, Donna Patton, Hazel Moncur, Winnifred Mallroy, Londa Taylor ,Dorothy Whyms, Fredrica Bethel and Gloria Smith; others relatives and friends including: Anthony Forbes, Georgina Bannister, Janet Bannister, Hugo Barry, Larando, Elaine Ferguson, Evangelist Mary Nairn, Natalie Barton, Colamae Smith, Rev Felix Miller and family, Sister McPhee and family and other members of the Church of God, Fowler Street; Dr. Bain, nurses and staff of the Princess Margaret Hospital, The entire Green Family of Mangrove Cay, Andros; the entire McKenzie family of Barraterre, Exuma and many others too numerous to mention.
Friends may pay their last respects at Butlers' Funeral Homes and Crematorium, Ernest and York Streets, on Friday April 5th, 2013 from 10:30 a.m. to 4:30 p.m. and at the church on Saturday April 6th, 2013 from 1:00 p.m. until service time.