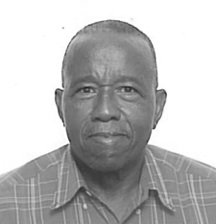 Christie McField Mortimer
unknown - unknown
Funeral Service for Christie McField Mortimer, age 67 years, of Marathon Estates, formerly of Mortimer's Long Island, will be held on Saturday April 6th, 2013 at 1:00 p.m., at All Saints Anglican Church, All Saints Way, Joan Heights, South Beach. Officiating will be Rev. Fr. S. Sebastian Campbell. Interment will follow in Lakeview Memorial Gardens, John F. Kennedy Drive.
Left to cherish his fond memories are his wife: Wachenella Dotsy Mortimer; his children: Claudine and Colin Mortimer; his grandchildren: Colin Mortimer Jr. and Cierra Major; his parents: Catechist McField and Pearline Mortimer; four brothers: George, John, Donald and Michael Mortimer; four sisters: Annie Minnis, Vandolyn Mortimer, Sandra Mortimer-Russell and Willamae McIntosh; aunt: Ann Mortimer (Delaware, U.S.A.); uncle-in-law: Exante Baptiste (Miami, Florida); brothers-in-law: Reginald Minnis Sr., Kevin Russell, Garth McIntosh, Robert and William Anderson (England); sisters-in-law: Alvina, Eunice (Pinky) and Sylvia Mortimer, Cynthia Williams (England); nieces: Shatania, Miesha, DeShanah, Michaela and Michaelette Mortimer, Denise Minnis and Shanta Fawkes; nephews: Mario, Anthen, Delano, Angelo, De'Maro and Jonathan Mortimer, Reginald Minnis Jr., Khumalo and Machano Fawkes, Garth Jr. and Nathan McIntosh; cousins: Holland and Elsie Dean and family, Harriet Dean, Maurice and Sandra Moore and family (Grand Bahama), Donald, Norman, James and Sandra Robinson (Delaware, U.S.A.), Lawrance, Oralee and Chris Major, Simeon and Beulah Smith and family, Laura Sherman and family, Ellen Hanna, Steven Smith, Tina Carey and Marcellus, Karen and Tanya Hall; godchildren: Alqueena Neily and Troyann Saunders; other relatives and friends including: Thomas and Thelma Dean, William Taylor and family, Emerson Johnson and family, Finley Major, Rose Neilly and family (Bluff, Eleuthera), Bert Sawyer (Harbour Island), Rudy Stuart, Rudy Stubbs and crew, Percy and Dora Johnson (Harbour Island), Adler Minus, Linda Mortimer, Millie Dorsett, Halcy Dorsett and family, Luther and Stephanie Cartwright, Mrs. Patrice Russell, Earnest Watson, Staff of Chris Mortimer and Son, namely Allan Major, Brian Burrows (Neymour), and Ian 'Big Man' Pennerman, Staff at Global Tile, Staff at Nassau Tile, Staff at Pinder Tile, Staff at Carl G. Treco Construction, Sunco Builders and Developers Ltd., Partners and staff of Harry B. Sands Lobosky and Company, Church of Christ family, All Saints Parish family, Neighbours of Palmetto Crescent, Marathon Estates, the Mortimer, Major, Turnquest, Cartwright, Watson, Pratt, Dean, Munroe, Martinborough, Darville, Carroll and Wallace families of South End, Long Island and many others too numerous to mention.
Friends may pay their last respects at Butlers' Funeral Homes and Crematorium, Ernest and York Streets, on Friday April 5th, 2013 from 10:30 a.m. to 4:30 p.m. and at the church on Saturday April 6th, 2013 from 12:00 noon until service time.