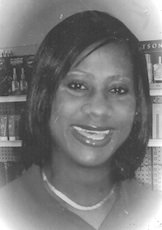 Deborah Louise Roker
unknown - unknown
Funeral Service for the late Deborah Louise Roker age 43 years old of Katrina Ave, Nassau Village and formerly of Burnt Ground, Long Island will be held on Saturday, April 6th, 2013 at 11:00am at Living Waters Kingdom Ministries, Warren Street, Oakesfield. Officiating will be Apostle Raymond Wells, assisted by other Ministers of the Gospel. Interment will follow in Woodlawn Gardens, Soldier Road.
Loving memories will linger in the hearts of her Son: Marine Seaman Delcado Pratt; Mother: Hester Roker; Father: Wencil Roker; Grandmother: Vandeola Bridgewater; Step Grandmother: Louise Roker; Sisters: Remelda Woodside, Michelle Roker, Hazel Rolle, Nadine Knowles and WPC Paulette Roker; Adopted Sisters: Shornay Brown, Mary Culmer and Sarah Thompson; Brothers: Lynden, Cresville, Jarred and Wayne Roker; Nieces: Kimberley and Regina Woodside, Deandra Kemp, Leshelle Pratt, Glenelle and Harley Rolle, Destinee Roker, Shawnay Adderley, Waynesha Roker, Sinte, Renae and Jasmine Roker; Nephews: Renaldo Woodside, Deangelo Beneby, Jeremiah, Lynden Jr., Wayne Roker Jr., Jarred Roker Jr., Joshua Roker, Glenroy Jr., Hazen and Gabriel Rolle, Kirkland Knowles Jr.; Grand Nephew: Brendon Kemp; Aunts: Enidmae Stubbs, Merlene Bridgewater, Tilly, Esther, Arabella, Elsie and Mavis Roker, Ruth, Corine and Sandra Bridgewater; Uncles: Frederick, Nathaniel and Douglas Bridgewater, Lawrence, Andrew, Prince, Albert Roker and Neimiah Stubbs; Sister-in-law: Katrinka Roker; Brothers-in-law: Michael Woodside, Glenroy Rolle, Kirkland Knowles; Host of relatives and friends including: Spence Johnson, Family of Jerome Moss, The Pratt Family, Burnt Ground Nurse Inez Spence, Christine Bridgewater, Reginald and Ricardo Ferguson, Barry Woodside, Janice Doris Woodside, Darren, Patricia, Stephanie Fritz, Dwight Kelsey, Douglas Bridgewater Jr., Patricia Rolle, Darren Sweeting, Ellamae Ollen, Allen and Shoshata Morris, Aaron Bridgewater, Kirk and Vinnie Bridgewater, Mauricio, Shameka Bridgewater, Nickell and Shantinique Pratt, Lateya and Glen Pinder Sr., Vashti, Ellamae Fitzgerald, Marvin, Latoya, Clifton and Bridgette Bridgewater, Monique Adderley, Daphne Patterson, Janice Brown, Geneva Dean, Charlene Walkes, Denika Knowles, Joe Jerome, Terrance, Owen, Sandra, Bethsheba Bridgewater, Craig Brown, Joyce, Randa, Shaney, Berney, Deon, Fanny, Pernell, Delerice, Idell, Delphine, Daphene Wellington Jr., Louie, Kermit, Devaris, Alexis, Latiqua, Ashley, Tiffany, Ashton, Rebecca, Cleso, Vincent, Junior, Tasha, Lawrence Jr., Jasmine, Prince Jr., Javis, Jadin, Samantha, Angelique, The Shearers, Azel Smith, Bonita and Family, Paulette Pratt and Family, The Kemp Family, Mrs. Mary Miller and Family, Fox Hill Community and Johnson Family, The Staff of Princess Margaret Hospital, the Staff of Jackson Memorial Hospital, The Doctors and Nurses of Northshore Hospital, U.S.A., The Community of Long Island, Gerd and Monica Furhman, and Stella Maris Staff.
Viewing will be held in the Celestial Suite at Restview Memorial Mortuary and Crematorium Ltd., Robinson and Solider Road on Friday from 10:00am to 6:00pm and at the church on Saturday from 10:00am until service time.