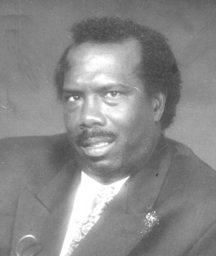 Hilliard Ezekiel Minns
unknown - unknown
Last rites for Hilliard Ezekiel Minns aged 59 of Bel Air Estates off Carmichael Road and formerly of Harts Exuma will be held on Saturday at 10:00 A.M. at Church of God Of Prophecy, Blue Hill Road. Officiating will be Minister Sterling Moss assisted by Other Ministers of The Gospel. Interment in Woodlawn Gardens, Soldier Road.
He is survived by his daughters: Kawanna and Hilliuian Minns; one son: Keon Minns;
one sister: Margaret Goddard; Two Brother: Charles Minns and Neville Curry;
Aunts: Merline Smith , Emma Rodrique, Madeline Josey, Diana Malone, Dorothy Patton;
Sister- In-law: Erma Minns; Brother-In-laws: Kenneth Goddard, Simeon Curtis, Godfrey Swann. Grand Children: Khamani and Jah mani Gardinet, Shyloh Minns; Daughter-In-law: Sheniqua Minns; Nieces: Shantell Rolle, Karen Rolle, Idena and Nakisha Curtis, Niguel and Shavonne Minns, Keneva Goddard; Nephews: Marvin, Wendon and Eldon Curtis, Ricarno Nixon, Ricardo, Shawn and Deron Minns; Numerous Grand Nieces and Nephews; Numerous Relatives and Friends including the entire Minns Family, Roszena Rolle and family, James Williams, Pitter Family, Major Family, Thompson's Family, Christine Flowers, Meline Ida Clarke, Agnes Ferguson, Ivy Minns, Bertha Archer, Jonna Webb, Priscilla Flowers, The Driving Association, Mr. Moss,
The Shell Saxons, The Boulevard Bar Family, Special Friends, Sherry Stubbs, Judy Stubbs, Arnetta Hart, Thomas Sherille Cox, The Curtis and Rolle Family.
The body will repose at Kurtiss Memorial Mortuary, Robinson Road and Fifth Street on Friday from 12:00 Noon until 6:00 P.M and at the church on Saturday from 9:00 A.M. until service time.