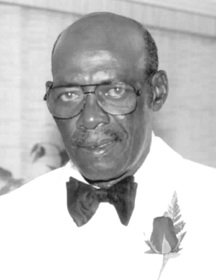 Hubert Alexander Charlton
unknown - unknown
Funeral Service for Hubert Alexander Charlton, age 80 years a resident of Odle Corner, East Street, formerly of Abraham's Bay, Mayaguana, will be held on Saturday April 6th, 2013 10:30 a.m. at Our Lady of the Holy Souls, Deveaux and Young Street. Officiating will be Reverend Kendrick J. Forbes assisted by other ministers. Interment will be made in Woodlawn Gardens.
Left to cherish his memories are his Children: Brendan Colebrooke and Myrtle Lafleur; Son-in-law: Larry Lafleur Sr.; Grandchildren: Aretha Turnquest, Larrimina Thompson, Lorraine and Larry Lafleur Jr., Shanta and Jermaine Colebrooke, and Michresha Cleare; Great-grandchildren: Aliyah Wilkinson, Allyssa Fox, Emerald and Ernest Thompson Jr., Layla and Larry Lafleur III, and Atreo Cash; Brothers: Lloyd Charlton of Lake Wales and Norman Charlton of Freeport, Grand Bahama; Sisters: Pearlene Pratt, Hazel Smith, Frances McPhee and Mary Scott; Sisters-in-law: Ella Charlton, Kathleen and Carriemae Pratt, and Sister Mary Benedict Pratt of Saint Martin Monastery; Brothers-in-law: Hermes Pratt, Evangelist McPhee, Ancel and Vincent Pratt; Uncles: Stanley and Percy Charlton both of Florida; Aunts: Mary Smith, Idell and Methilda Burrows and Drucilla Brown; Nephews: Nearl McPhee, Fred and Carrington Smith, Edward Humes, Keith Curry, Kirk, Kenneth, Anthony and Romel Farrington, Craig Major, Jeffrey, Godfrey, Bradley and Keith Scott of Jacksonville Fl., Steven Gay, Philip and Perry McPhee, Ruis Gibson and Kezim Heild; Nieces: Dorsiemae Humes and Virginia Curry, Dottlee Major, Karen, Yvette, Vangie, Michelle, Dale and Devonna Farrington of Lake Whales Fl., Sharon and Monique Scott, and Baronette Gay, Patrice Moncur, Lisa Gibson and Patrilee Heild; Other Relatives and Friends Including: Daniel Gabriel, Candy Lafleur, Donna Colebrooke, Mavis and Isabella Pratt, Clyde Pratt and Family, Sylvia Outten, Crystal Stubbs, Patricia Newry, Norman Rahming, Kevin Rahming, Michael Rahming, and their families, John, Anthony Williams, Jelita, Clinton, Dellarese Williams and their Families, Bridgette Rolle and Family, Cecil Curtis, Levan Cox, Tisca Armbrister, Vinette Gaitor and their Families, Heidi, Van, Hugo, Vincent Pratt Jr., and their Families, Laura Pratt-Charlton, Maresha Culmer and their Families, The Sister of Saint Martin Monastery, Edward Cleare, Sylvia Tynes, Corene Maynard and their Families, Mae and Sabrina Davis, Tom and Lisa Roberts, Judy Major, Ethel Lewis, Alice Johnson and Family, Special Thanks to Dr. Serville and the Nursing Staff of Male Medical I, Friends from Odle Corner and Gibbs Corner especially Tudy, Eric, Carlos, Anthony, Edmond, Harry, Otis, Cliff, Micah, Willmore Cap, Deiderick, Leonardo, Thomas Astwood, Kelsey Lundy and Family, Rodney and Family, Mar and Mar Food Store, other families and friends too numerous to mention.
Relatives and friends may pay their respects at Cedar Crest Funeral Home& Crematorium, Robinson Road and First Street on Friday from 12:00noon to 6:00p.m and on Saturday at the church from 9:30a.m until service time.