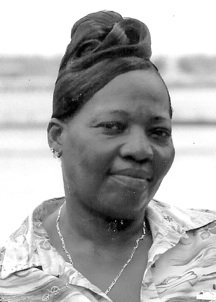 Jacqueline Dorothy Duncombe
unknown - unknown
Funeral service for Ms. Jacqueline Dorothy Duncombe age 66 yrs of #13 Croton Road Pinewood Gardens and formerly of Duncombe Coppice, South Andros will be held on Saturday April 6th, 2013 at the Apostle of the Endtime Church, West and Ferguson Street Bain Town, Nassau at 12:00 p.m. Officiating Pastor Carlos J. Wallace; Assisted by Priest Willis Stubbs and Pastor Preston Collins. Interment will be in Southern Cemetery, Spikenard and Cowpen Roads Nassau.
Father & Mother: Rev. Theophilus and Lillian Duncombe both pre-deceased her.
Jacquelin's Sons and Families: Anthony & Raquel Duncombe, Antonair & Anthony Jr., Deacon Sherman & Sharon Smith (Ft. Lauderdale Fla.) Sherdeanya, Sherman Jr. and Britaneey; Trevor Smith & Pauline Morrison, GeAh, Tre-Khara, Rashaad, Rashawn & Kaeleb; David & Wendy Wallace, Jerome, Felicia, Davette, Duran, Dashaunette, David Jr. & Devon; Jarreth Wallace, Jevonna and Leah; Priest Craig Wallace and Craig Jr. & Jason Duncombe (Dania Beach Fla.).
David (Hayward) & Thelma Duncombe Family: Peter, David, Harold, Lydia, Miriam & Magnolia, nieces and nephews.
Marinette (deceased) Johnson Family: Jack, Lenward, Leslie, Jeffery, Barry, Wendy, Brenda, Barbara, nieces and nephews.
Apostle Wendell & Blossom Duncombe Family: Spence, Rudy, Wendell Jr., Wencel, Shantell, Deborah, Sandra, Gardinea, HannaMae, Monique, Roshell & Delerease, nieces and nephews.
Marilyn & Charles (deceased) Wallace Family: Alan, O'Neil, Pastor Carlos, O'Brian, B'Marilyno, Valarie, Cherine (deceased), Arnicher, nieces and nephews. Susan & Ezekiel (deceased) Ferguson Family: Lathan, Tyrone, Patrick, Dalcien, Terry (deceased), Veronica, Valana, Linda (deceased) & Nicola, nieces and nephews. Eldridge & Angela (both deceased) Duncombe Family: Kevin, Sal (deceased), Gregory, Victor, Sonny, John, Laverne (deceased), Lidea, Bonny & Neka, nieces and nephews. Syblean Forbes Family: Paswell, Carlton Terence & Andrea, nieces and nephews. Theophilus Jr. (deceased) Duncombe Family: Andrew, Italia, Anita & Antea, nieces and nephews. Johnnie & Rowena Duncombe Family: Rodelle and Ruth Mae, nieces and nephews.Goldie & Jimmy Pierre Family: Garth, Reana, Rico, Jimmy Jr. (deceased), nieces and nephews.
Special recognition to Maria Jerkins, Marcus and Michael (Miami Fla) and Family.
We apologize for any names of family members not mentioned due to insufficient communication. We do wish to recognize their absence.
Friends may pay their last respects on Friday from 11:00 a.m. to 5:00 p.m. at the ROCK OF AGES FUNERAL CHAPEL. Wulff Road and Pinedale Street - Nassau, Bahamas. At the church from 11:00 a.m. until service time.