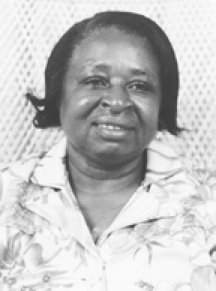 Loretta Gertrude Rolle-Rodgers
unknown - unknown
Funeral Service for Loretta Gertrude Rolle- Rodgers, age 96 years a resident of #13 Guadeloupe Street, Golden Gates # 2 and formerly of Black Point, South Andros will be held on Sunday April 7th, 2013 3:00p.m at Grants Town Seventh Day Adventist Church, Wellington Street. Officiating will be Pastor H. A. Roach assisted by other Ministers. Interment will be made in Woodlawn Gardens, Solider Road.
Memories will linger in the hearts of her children Four(4) Sons: Charles, Leo, Samuel and George Rodgers; Three(3) Daughters: Dorothy Clarke, Ellen Forbes and Lorena Rolle; Brother: Bursil Rolle of Johnson's Bay South Andros, Sons-in-law: Cressel Clarke, George and Pastor Henry Forbes and Treg Rolle; Daughters-in-law: Pamrica, Elahmae, and Valery; (49) Grandchildren including: Nursing Officer Ellamae Blyden, Const. 1857 Prince Rodgers, Insp. Warren 'Buck' Rodgers, Karen Knowles, Willarine and Marie Rodgers; Michael, Gary, Linda, Jason and Lamon Clarke and Bridgeann Burrows; George Jr., Henry, Phillip, Laverne, and Clement Forbes, Paulette Curry; Pamela, Oscar, Darwin, Jourdana, Leonardo and Nadia Rodgers; Clyde, Randy, Dwayne and Tenisha Forbes, Brenda Rolle, Barbara Goodman and Kendra Johnson; Shantel Rodgers, Lakhia Watson, Shenika, Samuel Jr., David and Sean Rodgers; Nicola, Ginger Minnis, , Kevin, Kendrick, PC 3116 Kieron, Kyle and Kachara Rodgers, Tanya Armbrister, Geovani, PC 3310 George Jr., PC 3363 Jaicoy, and Danielle Rodgers and Andrew & Tremayne Rolle Sisters In-laws: Mary and Lucille Rolle, Masalena Rolle and Edna Rolle of South Andros, Leah Moss and Evelyn Hepburn of St. Petersburg, Florida. Granddaughters-in-law: Carla, Kendra and Cleo Rodgers, Monique Clarke, Mavis, Tina and Sonia Forbes, Tysheka and Lavonne Rodgers, and Alexia Clarke; Grandsons-in-law: Godwin Blyden, Van Knowles, Alfredo Burrows, Floyd Curry, Kevin Rolle, Pedro Goodman, Teran Armbrister, Jason Minnis, Gregory and William Johnson. Numerous great & great great grandchildren; Numerous nieces and nephews including: Norward, Edmund & Ezra Rahming, Mazella Rahming, Rose Strachan, Elfloy Newry, Advilda Forbes, Minerva McKenzie, James Bodie, Apostle Amos Rahming, Rebecca Fife, Betty Rolle, Yvonne Adderley, Coralee Munroe, Petral Virgil, Sherry Rolle & Jennifer Smith, David, Fearburn, Gary, Jefferson, Leslie, Craig, Joel, Elizabeth Smith, Jennifer Rolle, Nursing Officer Sherrie Pinder, Vernita Moss, Christina Beneby, Eldridge, Cpl. Rueben, Kenneth, Eric and Roscoe Rolle, Nursing Officer Patsy Taylor of Freeport, Grand Bahama, Prince, Eddie, Ralph, Andrew, Donnie & Ellen Rolle, Matthew, Mark, Luke, John, Peter, Timothy, Joshua, Irwin, and Michael Rolle, Elizabeth Brown and Esther Thompson, Ellen Williams and Thomas Forbes of Fort Pierce, Florida, Minister Charles Rodgers of Florida, George and Carolyn Rodgers, Linda Roker, Michelle, Marva, Marcia and Monique, Helen Johnson, Hannah Johnson of Smith's Hill South Andros, Patricia Bethel, Stella Hopkins of Freeport, Grand Bahama, Lawrence Ash, Joann Johnson, Lizzy, Leo, Sidney, Don, Terry, Michael, Jackie Davis, Ginger Grant, Jillian and Lindell Rodgers and Gina Lightbourne, Terricita Harrison, Deborah Davis, Brenda White, Audrey, Audley, Bernard and Roy Rodgers. Numerous Grandnieces and nephews:
Other relatives and friends including: Leroy Stubbs, Albertha Rodgers , Joy Reckley, Jestina Rodgers, Ms. Iris Tynes and Family, Ms. Gladys (Caretaker), Wilmore Bethel (godchild), Prudence Mackey, Shari Marshall, Beverley, Reinette Hall, Florence Brown, Nursing Officer Ruthmae Collie, The Hamiltons, The Fords, Cyprianna McDonald, Randy and Allan McClain, Jim Wood and Family, Ms. Esther 'Ms. Es' Lotmore, Patricia Rolle, Tanya and Shanice Huyler, Dr. Nelson Clarke, The Turners, The Lightfoot, The Burrows Families of Guadeloupe Street, Ms. Florence Davis, Staff of Paradise Security Services, Staff of Ministry of Works, Staff of Ministry of Transport and Aviation, The Hon. Shane Gibson M.P., Vincent Culmer & Family, Leroy Forbes, Rosalie Forbes, John Stubbs, Alice Rolle and Family, The Grants Town SDA Church and a host of other relatives and friends too numerous to mention.
Relatives and friends may pay their respects at Cedar Crest Funeral Home & Crematorium, Robinson Road and First Street on Saturday from 10:00 a.m to 6:00p.m and on Sunday at the church from 1:30p.m until service time.