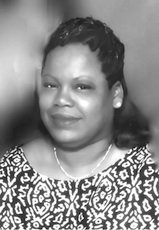 Olive Albertha Thompson-Miller
unknown - unknown
Garnet Funeral Service for retired Nurse Olive Albertha Thompson-Miller age 59 years of #17 Cottonwood Street, Pinewood Gardens and formerly of Gregory Town Eleuthera will be held on Friday, April 05, 2013 at 10am at St. Thomas More Roman Catholic Church, Madeira Street. Rev. Fr. Noel Clarke, assisted by Monsignor Alfred Culmer and Deacon Dennis Mackey officiate, burial will be in Woodlawn Gardens Cemetery, Soldier Road.
The Radiance of this "Garnet of A Gem" will always glow in the hearts of her:
Husband: Earthlin Nathaniel Miller Sr.;
One Son: Earthlin Miller Jr.;
Two Daughters: Amanda St. Charles and Vanessa Black;
Seven Grandchildren: Autumn and Amir St. Charles, Trent Rolle, Savannah and Dennis Black, Hannah and Aaliyah Miller;
Two Sons-in-law: Anthony St. Charles and Dennis Black;
Daughter-in-law: Marlene Miller;
Brothers-in-law: Junior and Ervin Miller;
Sisters-in-law: Elicia, Emmaline, Esther and Julie Miller;
Six Brothers: Leslie (Peggy), Neville, Danny (Marilyn), James, Sherman and David (Michelle) Thompson;
Five Sisters: Sylvia Mackey (Louis), Marilyn Adderley (Austin), Mattie Emmanuel (Thomas), Theresa Thompson (Bruno) and Emmaline Debre (Elouse);
Nephews: Cecil, Harold, Talfort, Craig, Austin Jr. Shervin, Orlando, David Jr., Maurice, Marcus, Ervin, Andre, Antonio, Jason, Dwight and Kemon;
Nieces: Christine, Janet, Sandra, Lendora, Sydonne, Shakia, Shanria, Melena, Arissia Andrea, Alicia, Monique, Sonia, Sharon, Sophia and Mikala;
One Uncle: Rolance Lightburn;
Other loving family and friends including: The descendants of Olive Scavella, Eloise Petti, Charlotte, Edward, Arthur and George Thompson, Emma Johnson, Whitfield, Isaac and Rolance Lightburn, Monsignor John Johnson, Teddy and Jolton Johnson, Beverly Adderley, Rocelia Wright, Charlene Coakley, Navardo Neeley, Shelia Kemp, Frevamae Wilson, Diane Fernander, Rosemary Burton, Norma Taylor, Paula Rodriquez, Sabrina Hepburn, Geleta Glinton, Inez Dorestant, Arlene Ritchie, Agnes Gilbert, Janette Brice and their families, the entire Gregory Town Community, Monsignor Simeon Roberts, Monsignor Alfred Culmer, the families of Cottonwood Sreet Pinewood Gardens;
Special thanks to: St. Thomas More Choir, St. Thomas More Sick Ministry and the entire St. Thomas More Parish, Dr. Gregory Sweeting and the staff of Nassau Sight Centre, Dr. Smith and the staff of the Medical Clinic Princess Margret Hospital, the staff of the Research and Statistics Department Ministry of Tourism.
Visitation will be in the "Emerald Suite" Emerald Ridge Mortuary & Monument Company Ltd. #20 Claridge Road on Thursday, April 04, 2013 from 1pm to 6pm and at St. Thomas More Roman Catholic Church, Madeira Street on Friday, April 05, 2013 from 9am to service time.