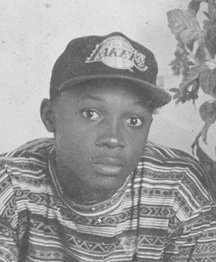 Owen Norman Woodside
unknown - unknown
Funeral service for Owen Norman Woodside, 38 yrs., a resident of Ida Street, will be held at Fore Runner Ministry International, Chesapeke Road of Jerome Ave. on Saturday at 11:00 a.m. Officiating will be Pastor Jermaine A. Jones. Cremation follows.
Left to cherish his memories are his parents: Neville Woodside & Hilda Woodside (stepmother); 1 son: Livingston Woodside; 2 brothers: Edward Johnason & Cecil Carey; 2 step brothers: Don & Kevin Brown; 6 sisters: Gena Johnson, Roella Woodside, Anika Woodside Kemp, Renay Woodside Brown, Shonell Woodside, Tiffany Woodside; 2 step sisters: Vandette Brown Swain & Claudette Brown; grand father: Levi McPhee; grandmothers: Florence McPhee, Susan Higgins; nieces: Diorshea Johnson, Lutera Moss, Kayjah Ferguson, Arinique Ferguson, Jada Woodside, Niama Kemp, Miracle Woodside, Andrea,Tonya & Antoinette Bullard, Jennifer Bowe, Cedrinique Cooper, Clothdesha, Keva & Ammie Brown; nephews: Rhinnon McKinney, Cardo Woodside, Shawn Davis, Anton Bullard, Carlos,C.J. Cooper, Kevin Brown Jr. & Don Brown Jr.; uncles: Floyd, Levi Jr., Sandy & Errol McPhee, Roland Fawkes, Samuel & Oswald Woodside; aunts: Phyllis Maud of Hopeville, Virginia, Daphne Demeritte, Paula Mills, Cyprianna Moss, Denise Ford & Joan Michelle McPhee, Lillian Saunders, Elaine Woodside, Micheann & Stephanie Horton, Melva, Verdell Woodside, Pandora Woodside of Vero Beach, Fl., Jeaniemae Woodside, Ethian Mathilda Woodside; cousins: Sammy Woodside Jr., Virginia Woodside, Terrance Saunders Jr., Chukerra Saunders, Desmond Woodside, Theo, Kyleon, Christella Woodside, Simone, Prescot Woodside, Desaree Woodside, Paula Woodside Neely, Andrew, Maria, Shannon, Otine, Illene Achara, Monique, Sheron & Traven Shurn of Vero Beach Fl., Patricia Horton Woodside & Dion Woodside, Sandra Woodside, Vondeo Forbes & Corrad Strchan; other relatives including: Eugene Neilly & family, Naomi Taylor & family, Joseph Whymns & family & Lorenzo McCoy.
Friends may pay their last respectsatDemeritte's Funeral Home,Market Street,from 10-6:00 p.m.o n Friday & on Saturday at the church from 10:00 a.m. until service time.