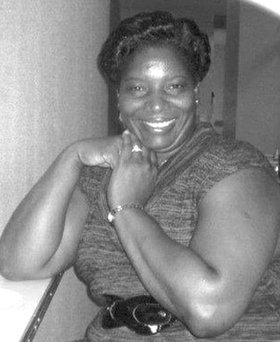 Andrea Justina Culmer-Sherman
unknown - unknown
Funeral Service for the late Sis. Andrea Justina Culmer-Sherman age 48 years old of #3 Dean Street will be held on Saturday, April 13th, 2013 at 11:00am at Mt. Moriah Baptist Church, Farrington Road. Officiating will be Rev. Dr. Wilton Strachan, assisted by Rev. Dencil Kerr and Rev. Godfrey Ellis. Interment will follow in Bethel Baptist Church Cemetery, Meeting Street.
Loving Memories will linger in the hearts of her Daughters: Kate Sherman-Bethell, Keithra, Kendra, Keva, Kimberley and Keiandrea Sherman and their father Keith Sherman; Grand Daughters: Tatyana P. Burrows, Kayden M. A. Swain and Alexia Rolle; Brothers: Larry, Jeffrey, Stephen, Deacon Milton, Andy, Kevin and Ricky Culmer; Sisters: Eloise Poiter, Karen Wilson, Delcha, Stephanie and Ann Culmer, Patrice Hepburn, Nancy Ferguson, Antoinette Rolle (Miami, Florida), Nurse Patricia Hanchell (Freeport, Grand Bahama) Lilliann Deveaux, and Chivon Newbold; Son in Law: Kareem Bethell; Expectant Son in Law: Absalom Butler; Godchildren: Victoria Skeets and Charlyse Sherman; Brother-in-Laws: Kingsley Poitier Sr. and Raymond Wilson; Sister-in-Laws: Dora Culmer and Sharrine Culmer; Nephews: Kingsley Jr., Ramel, Tanzania, Rober't, Princ'tanique, Stephen Jr., Samuel, Arthur Jr., Sean, Arturo and Chrispin; Nieces: Ingsley McKinney, Rekel Poitier, Lakeisha Culmer-Senatus, Blair and Nakia Culmer, Kishanek, Carla, Shatara, Stevette, Shovania, Trevon Thurston, Dr. Tia and Q'Jannis Wilson, Chantell Dames, Cutell, Arthurann, Shyanne Saunders, Sherketta, Deattra and Mika Lockhart-Thompson; Aunts: Joan Culmer, Roslyn Woods, Antoinette Petty, Edith Smith, Suzymae and Zel Lockhart, Iva Lockhart and Marge Burton (Miami, Florida), Gloria Rolle and Firstina Gibson; Uncles: Oswald and Bernard Culmer, Ed and Lorenzo "Donnie" Lockhart, and Edward Bullard; Grand Nieces & Nephews: Jade and Demia Thurston, Jamiyah Kelly, Trevia, Avianna and Arthur Amboree Jr.; Cousins: Christopher, Andy, Kirk, Ricardo, Alice, Claudia, Renea, Martinese, Dee Dee, Roosevelt, Tyrone, Kevin and Gladys, Joseph Bullard, Donna Whymns, Gregory, Ashlyn and Dwayne; Numerous relatives and friends including: The Skeets Family, Rochelle Ferguson & Family, Bradley "Bunna" Sands & Family, Mary Adderley & Family, The Deveaux Family, Laverne Cooper & Family, Crow Dean & Family, Pat Russell & Family, The Duncombe Family, Charlene Smith & Family, The Sherman Family, The Butler Family, Margaret Bethel & Family, Cleare Rahming & Family, Paul Raeburn & Family, Dianne Lockhart & Family, Christopher Rolle & Family, Antius Robinson-Butler & Family, Keisha Leary, Michael, Lindberg, Aaron, Natasha, Faye, Manford, Eddie Adderley, Valencia Brown, Marilyn Robinson, Josephine Simmons, Carmetta, Kathleen, Eric, Jackie Johnson, The British American Family, The Cable Bahamas Family, The KRYS Global Family (Fellow Fun/Run Walkers), The Albany Family, Dr. Cindy Dorsett & the Poinciana Medical Family, Rev. Dr. Wilton Strachan and the Mt. Moriah Baptist Church Family, Rev. T. G. Morrison and the Zion Baptist Church Family, Rev. Timothy Stewart and the Bethel Baptist Church Family, Rev. Randolph Curtis & Family and The Bain & Grants Town Community.
The family sincerely apologizes for any names that many have been inadvertently omitted.
Viewing will be held in the Celestial Suite at Restview Memorial Mortuary and Crematorium Ltd., Robinson and Solider Road on Friday from 10:00am to 6:00pm and at the church on Saturday from 10:00am until service time.