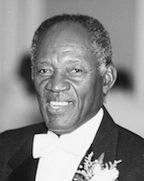 George Livingstone Huyler
unknown - unknown
Funeral Service for George Livingstone Huyler, age 82 years, of 390 Prince Charles Drive, will be held on Saturday April 13th, 2013 at 2:00 p.m., at St. Barnabas Anglican Church, Baillou Hill and Wulff Roads. Officiating will be Canon Basil L. Tynes. Interment will follow in the Eastern Cemetery, Dowdeswell Street.
Left to cherish his fond memories are his wife of fifty-two years: Dorothy; his children: Gregory, Paulette, Marlene, Wayde, Royce, Andrea and Dwayne Huyler; three grandsons: Marcus and Royce Huyler Jr. and Mariano Kelly; one great-grand son: Prince George Marcus Huyler; one brother: Robert Huyler; ten sisters: Cleomi Rose, Vernita Adderley, Deloris Moss, Prescola Hanna [Elvis], Minister Jacqueline Rahming [Bishop Elgarnet], Lillis Strachan, Leona Huyler, Judith Knowles [Stephen], Charlene Storr [Merit], and Therez Thompson [David]; nieces and nephews: Shelly, Karol, Christopher, and Gary Mackey; Verenique McArdy, Eyvonne Campbell, Ian Rolle, and Ishmael Adderley; Ethan, Alvin, Cherise and Khamille Moss, Joycelyn Taylor, and Claudia Rolle; Jarenda, Janeene, Jadeena, and Elgarnet Rahming II; Antonio, Lisa, and Elvis Hanna; Reginald and Olga Munroe, Kingsley and Maedawn Munroe; Leslie, Sonja, Orlando and Shavonne Albury; Laverne and Bernard Crawley, Kevin and Inger Archer; Christopher, Shariff, and Cindy Ferguson; Sylvia, Walter, Ricardo, and Dellarease Rolle; Bishop Neil and Patrice Ellis, Franon, Shelly, Cheryl, Christopher, and Kara Wilson, Sharlyn and Frank Smith, Rosel and Beverton Moxey; one son-in-law: Marchello Kelly; daughters-in-law: Curlena and Charleen Huyler; brothers-in-law: Franklyn Wilson, Samuel Archer and Adam Mackey; sisters-in-law: Brenda Mae Ferguson, Telcine Albury, Maxine Archer, Catherine Mackey, and Senator Sharon Wilson; other relatives and friends too numerous to mention but including: cousins: Basil Huyler Sr., Basil Huyler Jr., Beverly Nairn, Herbert Huyler Jr., Godfrey Huyler, Leroy Huyler, Andrew Huyler, Constance Huyler Gardiner, Roy Huyler, Arthur Huyler, Dr. Philip Huyler, Coral Huyler, Ken Huyler, Barry Malcolm, Fr. Whitfield Hutcheson (Bro. Hutch), Beryl, Vernon, and Cheryl Huyler; and a host of other relatives and friends including: Canon Basil Tynes and Family, the Saint Barnabas Choir and Church family, the Thurston, Bowleg and O'Brien families, Meryl Deveaux, Alphonso Adderley, Cecil Dorsett, the Burgzorgs, Martins and other Wilton Street families, New Providence Classical School family, Liberty Classical School, the Bain Town Community, Bernadette Poitier and family, Marilyn Gardner and family, Sham Moss, Bro. Alfred Dean, Bro. Clifford Stubbs and the Cat Island United Association, the Staff of Island Wear, T-Shirt Jungle and Monopoly Ltd. and many others.
Friends may pay their last respects at Butlers' Funeral Homes and Crematorium, Ernest and York Streets, on Friday April 12th, 2013 from 10:30 a.m. to 4:30 p.m. and at the church on Saturday April 13th, 2013 from 1:00 p.m. until service time.