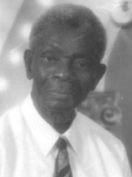 George Obediah Russell
unknown - unknown
Funeral Service for the Late Mr. George Obediah Russell, 79 years Highbury Park and formerly of Red Bay, Andros, will be held on Saturday April 13th, 2013, 11:00 a.m. at Church of God of Prophecy, East Street South. Bishop Rudolph Bowe assisted by Pastor Ghaly Swan will officiate. Interment will follow in Woodlawn Memorial Gardens, Soldier Road.
Precious memories are held by two (2) sons: Charles and Jackson; five (5) Grand Children: Jiles, Jackson (Jr.) & Jelissa, Jacquelyn, Nicholas and Jave Russell; four (4) Great Grand Children: Kayajah, Rachae, Kaylisa and Jalayah Russell; one (1) Brother-in-law: Charles & Catrina Bethel; one (1) Sister-in-law: Barbara Sturrup; Nieces: Melvina Delores Russell-Kemp, Melissa Russell-Newbold & Anton, and Debbie Bethel; Nephews: Rollins, George Prince & Carvison Russell, Edward & Brian Bethel; Grand Nieces: Cassandra Hanna, Tiffany Higgs, Movina & Romiro Forbes, Phillisia Armbrister and LaTonya Knowles; Grand Nephews: Yohancy & Timothy Kemp; One (1) Godchild: Brandon Gibson. Other relatives and special friends including: Rosalie Hanna, Lucita Poitier, Olga Wilson, Corean Gardiner, Peseretha Hicks, Branhilda Wallace-Whitfield, Brendalyn Neilly, Alma Whyms, Shirley Kerr, Mitchell Poitier, Hezekiah Poitier, Herbert & Charles Strachan, Thelma, Gina, Ryan and Libby Russell, Jonathon and Nathiel Russell, Terri Adderley, Marvelyn Saunders and Family, 2 Adopted Daughters: Betty Gibson and Mae Lightbourne; Linda Capoulsky, Bishop Bowe and Family, Bishop Ghaly Swan and Family, Bishop Clarence and Barbara Williams, Pastor Drexel Gibson, Pastor Timothy Johnson and Wife, The Church of God Family, The Montague Beach Family, The Archer Family, The Allen Family, The Red Bay (Andros) Family; and many others too numerous to mention.
Friends may pay their last respects at Bethel Brothers Morticians, #32 Nassau Street on Friday from 11:00 a.m. to 6:00 p.m. and on Saturday at the Church from 10:00 a.m. until service time.