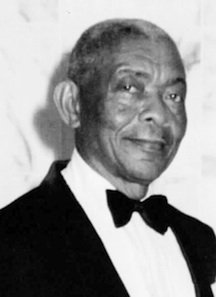 Livan Jeremiah Mortimer
unknown - unknown
Funeral Service for Mr. Livan Jeremiah Mortimer, age 90 years a resident of #33 Constitution Drive, Boyd Subdivision, and formerly of Mortimers Long Island, will be held on Friday April 12th, 2013 11:00 a.m. at Holy Spirit Anglican Church, #18 Howard Street, Chippingham. Officiating will be Rev'd. Fr. Peter A. G. Scott assisted by Rev'd. Dr. James Moultrie, Cannon Harry Ward and Rev'd. Fr. Enrique McCartney. Interment will be made in St Mathew's Eastern Cemetery.
Mr. Morimer is survived by his loving and supportive Wife: Eva, Daughter: Catherine Mortimer Wilson of West Palm Beach Florida; Son: Delroy Mortimer of Freeport Grand Bahama; Son in Law: Henry Wilson, Daughter in Law: Debbie Mortimer; Grandchildren: Enrique, Chelsea, Zahri, and Kai Wilson and Dax Mortimer (Ontario Canada,) Deanna Mortimer (Gatineu, Quebec) Brothers: Bishop Samuel Mortimer and Stanley Mortimer of (Tampa Florida,) Sisters in Law: Esther Mortimer, Enza Russell (Sandy Point, Abaco)and Lillian Fox. Nephews: Perry Mortimer(Velette), James Mortimer, Larry Mortimer, Cephas Dean, Kinvingston Dean Nieces: Roncela Mortimer (Tampa), Denise White (Tampa) Vivian Brown, Julie Brown, Catherine Mortimer, Gertrude Knowles, Monica Ferguson, Beverly Adderly, Elaine Dean, Shirley Brian, Monica Ferguson, Gelita Hall, Debbie Hall, Patricia Roberts, Dianna Fox, Carolyn Johnson, Mitzi Swaby Grand-niece: Perrisha Mortimer, Grand Nephew: Perrico Mortimer Cousins Lowell Mortimer,Cathechist Mcfield and Perline Mortimer, Paula Stubbs, Vera Levarity, Beverly Smith. Numerous other nieces, nephews and family members too numerous to mention;
Special Thanks and Acknowledgements to: Ruby Murdoch-Hill, Audley Fraser, Brian Conliffe ( Godson), Williemae Kemp(Goddaughter) Mrs. Flora Hanna and Family, Mrs Velma Burrows, The entire Holy Spirit church family, Father James Moultrie and Mrs. Bernie Moultrie, Cannon Harry Ward and Mrs. Ward. The Staff of Doctor's Hospital, Dr. Kevin Moss, Dr. Magnus Ekelede, Dr. Duane Sands, Kristina Wring and the nurses of Nurses N.O.W, PCTs Diana Tate, Kolette Hones, Joana Coleby, Maureen Pratt, Rowena Willis Marsha Riley,Sandra Bethel. Fran Haven, Anya James, Carla Braynen Turnquest as well as the many friends and family members whose call, visits, prayers and encouragement carried us through.
Relatives and friends may pay their respects at Cedar Crest Funeral Home& Crematorium, Robinson Road and First Street on Thursday from 12:00 p.m. to 6:00p.m and at the church on Friday from 9:30a.m until service time .