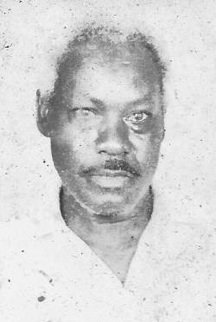 Alexander "Junior" Kendal Patton
unknown - unknown
Funeral service for Alexander Kendal "Junior" Patton age 74yrs, of Hill Street will be held on Saturday April 13th, 2013 at 2:00 p.m. at St Joseph's Roman Catholic Church Boyd Road. Officiating will be Monsignor Alfred Culmer. Interment will follow in St. Joseph's Cemetery, Tyler St.
Left to Cherish his memories are: His Loving mother: Iva Culmer- Patton; Brother: William Zack Patton; Sister-in-law: Yvonne Patton; Uncles: Bishop Robert Patton and Reverend Emerson Patton; Aunts: Sybil Deveaux, Mauddine Josey and Dorothy Bethel; Nieces: Crystle Patton, O'dessa Patton, Inza Patton; Nephew: Whitney Patton; numerous relatives and friends including: Norman, Maynard and Edward Culmer, Trevor and Pastor Darren Pinder, Eric and Craig Deveaux, Patrick, and Fred Josey, Alfred Bethel, Joe Roberts and family, Carl Spencer and family, Debra Connoly Richardson and family, Deacon Taylor and family, The Children of Nathalie Hutcheson including: Albert and Kirk Hutcheson Andrea Pinder and Nellie Strachan, Deacon John Sears, Majorie Stuart and family, Thomas Cooper and family, Bradley Cooper and family, Rev. Rubyann Cooper- Darling and family, Millie Cambridge and family, Dot Davis and family, Lee Saunders and family, Donald Cooper, Bev Nairn, Dianne Crawley , Victor Mackey, Rosalind Mackey Cartwright, Beulah, Ella and Bev Edwards, Sandra Orlander, Elanor Neely, Cardinal Hutcheson, Yvonne Connoly, Adrian Rodgers, Winky Curry, Greg Strachan, Mary and Tom Basden and a host of other relatives and friends too numerous to mention.
The body will repose in the Blessed Redeemer Chapel at Ferguson's Funeral Directors, 7th Terrace Collins Avenue, on Friday from 10:00a.m. - 5: 00 p.m. and at the church on Saturday from 1:00 p.m. until service time.