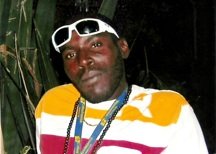 Marvin Nottage
unknown - unknown
Funeral Service for Marvin Nottage age 30 of Price Street, who died on Saturday March 23rd,2013 will be held on Saturday April 13, 2013 at 11:00 a.m. at St. George's Anglican Church, Montrose Ave. Officiating will be The Venerable Archdeacon Kingsley Knowles. Interment will follow in Old Trail Cemetery, Abundant Life Road.
He is survived by his: Father: Rodney R. Butler; Step father: Walter Baptiste; Step mother: Sherri Stubbs; Sisters: Shenika Nottage, Candice Shepherd, Cruzel Nottage, Tanya Adderley and Raquel Butler; Brothers: Garcia Nottage, Antonio Pollock of Orlando Florida Jason and Tooto Barr; Brothers' in-law: Fabian Shepherd Sr. and Cameron Saunders; Grandmother: Ivy Davis-Rolle; Nieces and nephews: Alex, Fabian Jr., Fabresheo, Samuel III, Marc, Ayden of Orlando, Florida, Amelia, Ceon, Ciara and Aidino; Aunts: Christine & Sharon Nottage, Marsha Dean and Charlene Murphy of Freeport, Grand Bahama, Gloria, Sheena and Nikee Rolle; Uncles: Rudolph and Craig Nottage, Harry Murphy, Otis, Norman and James, Junior Rolle and Hezekiah Dean of Freeport, Grand Bahama; Grand aunts: Pastor Eltamese Smith, Minister Ruthmae Gibson, Olga Duncanson, Pandora Miller, Evangelist Laurena Nottage, Baitress Clarke and Uris Nottage, Janet Brown, Anne Ferguson; Grand uncles: Pastor Isaiah Nottage, Deacon Orlando Nottage of Miami, Florida, Vincent and Hartman Muncur of Cat Island; Cousins including: Lakeisha , Tamika, Donya, Michael Jr., Ebony, Kimberly, Devern, Takoa, Perez, Kayra, Kayshelda, Antine, Naomie, Sherall, Rambo, Dadie, Shervin, Nodie, Shaneka, Norman Jr., Paris, Advin, Shantie, Terry, Dj, Pinky, Terance, Samantha, Esther, Cruz, Craignesha, Donna, Tami, Avery of Miami, Florida, Christopher and Ebony; Numerous other relatives and friends including: Helen Smith and family, Veronica Clarke and family, Marco, Meko, Audrey Shepherd and family, Cleare, Adderley and Duncombe family, Debbie Kemp and family, Ms. Saunders and family, Strachan family, the St. George's Anglican Church Community, Dept. of Public Service-Attorney General Office, Sandilands Rehabilitation, Ministry of Education-Messenger Dept, Ms. Longley and family, Musgrove family, Leon Leguire family, Honorable Perry G. Christie and family, MP Dion Smith, Phillip McKenzie, Frank Smith and family, Derickea and family, the entire Nassau Village and Culmersville Community and Charles Smith and family.
Viewing will be held in the Legacy Suite of Vaughn O. Jones Memorial Center, Mt. Royal Ave. and Talbot St. on Friday from 10:00 a.m. to 6:00 p.m. and on Saturday at the Church from 9:30 a.m. to service time.