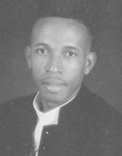 Domingo ""Dingo"" Duncan
unknown - unknown
Funerla service for Domingo "Dingo" Duncan, 36, a resident of Domingo Heights, will be hheld at the Church of God Auditorium, Joe Farrington Road, on Saturday at 11:00 a.m. Officiating will be Bishop Sherwin L. Smith, assisted by Pastor Dr. Luma Rolle & other Ministers of the Gospel. Interment follows in Woodlawn Gardens, Soldier Road.
Left to cherish the memories of his life is his devoted wife of 13 years: Vernet Duncan; 1 Daughter: D'Ahjur Duncan;
Mother: Olga Duncan; Father: George Duncan; Mother in law: Minister Virginia King, Father in Law: Minister William King; 1 Sister: Nekeba Duncan; 4 Brothers: Stephen Nottage ,Nathan Duncan ,Javorne Duncan and Kenneth Duncan.
Aunts: Pastor Eltamese Smith, Minister Ruthmae Gibson, Pandora Miller, Minister Dr.Lorina B.Nottage of Miami Fl., Urismae Nottage and Sylvia Nottage. Joanna Rolle of Sanford Orlando, Lucetta Johnson and Maude Clarke of Freeport Grand Bahama, Princess Clarke, Ellen Rolle, Grace Hall, Vernita Saunders and Marjorie Bain; Uncles: Deacon Orlando Nottage of Miami Florida, Pastor Isaiah Nottage, William Miller, Prince Livingston and Willard Livingston of Freeport Grand Bahama, Alexander, Prince and Percy King; Nieces: Stevanya, Lauryn and Jayla Nottage, Shanae and Sashae Duncan, Niketra Rolle, Gabrielle Duncan and Crystal Lewis; Nephews: LeroyNottage, Cameron and Nathan Duncan J.R. and Lyndon Wallace; 4 Sister in laws: Melva Nottage, Gardenia Duncan, Karen Duncan and Virdinia King; 1 Brother in Law: William King J.R.; Numerous Cousins including: Minister Christine and George Williams, Gardenia and Darren Sweeting, Sophia and Jason Rodgers, Anya, Eyan, Marco, Marvin, Kevin, Seaniqua, Demetrius, Jennifer Kemp, Minister Christine Nottage, Lauralynn, Tanya, Antoinette,Emery and Charlene Cooper, Carvinson Nottage, Ingrid and Shareka Nottage, Tamara, Esther, Brenda, Gary, Sharon, Kimberley, Ebony, Candice, Rudolph, Shanderia and Holly, Keisha and Ivy; Godchildren: Sheldon Stubbs J.R., Gerard Rolle .J.R. and Sontae Miller; Godsister: Delcina Burrows; Bestfriends: Sheldon Stubbs S.R., Cpl. Roy Miller and Maitland Moxey; Other Relatives and friends including: Pastor Dr. Luma Rolle, The Sanctuary of the Redeemed family, Bishop Sherwin Smith and The Good Shepherd family, John and D'Andra Mills, Dwayne Pople, Reginald Smith, Tamico Taylor, Andre Pyfrom, Manico Marshall,C.H. Reeves class of 1994, Arthur and Sandra Dean, One and Only Ocean Club Staff, South Ocean Staff, Costright Staff, Ashland Murray, Stephen Murray, Strider's Track Club, Eric Knowles and The Prodigal Sons Junkanoo Group, Peter Turnquest and The Roots Junkanoo Group , JCNP, Leon and Ramona Wilson, BHACUW, Mr. Renward Wells, Mr. Alvin Smith, Sheldon and Tanya Jones, Derek and Carol Rahming, Valarie Miller, Stephanie Stubbs, Jackie Johnson, Fortnah Wilson, Gerard Rolle S.R., Hilton family, Gleniston Centre for Learning family, Bahamas Frozen Seafood Ltd. Jordan Prince Williams Baptist School, Nassau Christian School, , Sheraton Cable Beach, Elkin and Lenford Collie Dianne Rolle, Valencia Lockart, Aliyah Rolle, Elsworth, Christanique& Monique Clarke, Eva and Gillian. Other Relatives and friends too numerous to mention.
Friends may pay their last respects at Demeritte's Funeral Home, Market Street, from 10-6:0-0 p.m. on Friday & on Saturday at the church from 10:00 a.m. until service time.