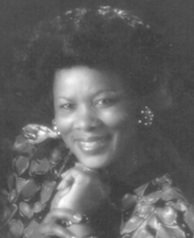 Gloria Hanna
unknown - unknown
Funeral Service for the Late Ms. Gloria Hanna, 67 years of #20 Joe Farrington Road and formerly of Acklins, will be held on Saturday April 20th, 2013, 10:00 a.m. at Believers Gospel Chapel, Prince Charles Drive. Pastor Cedric Moss and Pastor Joshua Sands will officiate. Interment will follow in Lakeview Memorial Gardens, John F. Kennedy Drive & Gladstone Road.
Left to cherish her memories are her: Children: Lillith, Kayla, Alex, and Kimberley Hanna; Sisters: Minerva Edwards, Lovetha Johnson, Lulamae Rolle, and Migrene Moss; Brothers-in-law: Peter Rolle Cardinal Edwards and Elias Ferguson; Sister-in-law: Angeline Moss; Aunt: Aruda Moss; Grandchildren: Christin Pratt, Kamryn Davis, and Yasmine Hanna; Nephews and Nieces: (Alfred Moss deceased): Everett, Lindio, and Oswald Moss, Leah & James Ferguson, Naomi & Martin Ferguson, Ruth, Dale, and Carnetta Moss, Meryl & Wilson Thompson, and Madlyn & Alicliff Bernard; (Lathisha Deleveaux deceased): Jacqueline Deleveaux and Ivadel Gilbert; (Elvie Moss deceased): Moses Johnson, Godfrey, Lorenza, McArthur, and Kaleb Ferguson, Diane LaFleur, Gerlene, Dorothy, and Marilyn Ferguson; (Paul D. Moss I deceased): Basil (B.J.), Cedric & Alexine, Paul II & Chantel, Devroy & Sherran Moss, Rosalee Prophete, Oralee & William Johnson, and Phillippa & Fabian Whymns; (Mable Ferguson deceased): Allance, Alex & Wyette, and Kimroy Ferguson, Linda & Walter Johnson, Nicole Johnson, and Christine & Christopher Russell; (Minerva Edwards): Cleophas, Preston, and Craig Edwards; (Lovetha Johnson): Uel & Latoya, Renette, and Rhonda Johnson; (Samuel B. Moss deceased): Owen & Shovon Moss, Gilda, Latoya, and Samantha Moss; (Lulamae Rolle): Aneka Rolle, Samantha & Vaughn Wood, and Monique & Henry Ledian; and (Migrene Moss) Lamont Moss; Cousins: Corrine Miller, Edna Deveaux, Kishlene Deleveaux, Monette Nottage, Berchnal Moss; and a host of other cousins and relatives too numerous to mention. Friends: Maedawn Murphy, Eunice Deveaux, Briniza Cooper, Adrienne Thompson, Ellen and Samuel Hanna of Delray Beach Florida, Vernal Hanna, the management and staff of the Cancer Center of The Bahamas, Dr. Nevis Girgis, staff and nurses of Mt. Sinai Oncology Department, Miami Florida, Dr. Arnold Blaustein, the Davis family, Elverton Russell of Miami Florida, Othneil Poitier, the Pastors and members of Believers Gospel Chapel, Pastor Joshua Sands and the members of Lifeline Ministries; and a host of other friends too numerous to mention.
Friends may pay their last respects at Bethel Brothers Morticians, #32 Nassau Street on Friday from 10:00 a.m. to 6:00 p.m. and on Saturday at the church from 9:00 a.m. until service time.