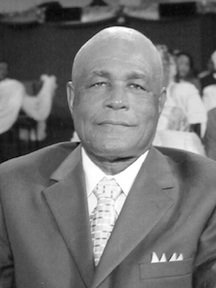 Roland Leslie Pinder
unknown - unknown
Funeral Service for the Late Mr. Roland Leslie Pinder, 72 years of Golden Gates #2 and formerly of San Salvador, will be held on Friday April 19th, 2013, 11:45 a.m. at St. Cecelia's Catholic Church, 3rd Street, The Grove. Monsignor Simeon Roberts will officiate. Interment will follow in Lakeview Memorial Gardens, John F. Kennedy Drive & Gladstone Road.
Left to cherish his memories are Wife: Maudline; Children: Clifton, Stephen, Daphne, Charlene, Dwayne and Ashley; Daughters-in-law: Julia and Shantel Pinder; Sons-in-law: Charles Brooks and Philip Bosfield; Grandchildren: Raquel, Teran, Charles, Diallo, Charlexis, Ashlea and Ashanti; Brothers: Alfred Cooper, Sr. and Ronald Pinder; Sisters: Grace Storr, Veronica Marshall and Portia Pyfrom; Sisters-in-law: Lenora Pinder, Dorothy Allen, Beryl Bonimy, Minerva Butler, Shirley Pinder, Dawnita Jones, Lillian Jones and Paula Jones; Brothers-in-law: Mervin, Peter and Roy Jones and Alkmund Bonimy; Nieces and Nephews: Brenda, George and Denise; Mark, Marvin, Michael, Dawnita and Devaughn; Jamaal and Janique; Andrew, Madonna and Elwood; Pamela, Kenria and Rochelle; Kenton and Darlene; Carolyn, Livingstone, Cherian and Fiona; Trevor, Troy, Tawana and Kissie; Errol, Clifton, Clayton and Lloyd; Cletus, Diane, Agatha, Alfred, Shanny, Portia and Andrea Cooper; Keith, Douglas, Debbie, Donna and Kim; Bernadette, Keva, Camille, Phillipa, Michael, Brian and Julian Marshall; Ray, Ria, Ingrid, Ronnie and Julian Pinder; Renee, Natasha, Patrice, Gary, Todd, Peter, Michael Darville, Brent, Craig, Andrew Pinder, Crystal, Michelle, Van and Ken. A host of other relatives and friends including – Leanna and Hazel Edgecombe, Patsy Sweeting, Caroline Fernander & Family, Idell Jones & Family, Millicent Williams & Family, Clifford & Audrey Fernander & Family, Wellington & Melinda Fernander & Family, Eureka Knowles & Family, Robert Cox & Family, Raymond Russell & Family, James Sands & Family, Allan Russell & Family, Rose Neilly, Burchie Gibson & Family, Derek Edgecombe, Glenroy "Castro" Burrows & Family, Ross Knowles, Ezra King, The Nixon Family, Iris Fernander & Family, Nigel Rolle, Allan Cleare & Family, The Virgil Sisters, The Ingraham, Brooks and Bosfield Families; The Mackey Family of Devil's Point, The Stubbs Family of Orange Creek, The San Salvador, Cat Island and North Eleuthera families at large; Bahamas National Trust, Commonwealth Bank Limited and The St. Cecilia's Catholic Church Family.
Friends may pay their last respects at Bethel Brothers Morticians, #32 Nassau Street on Thursday from 10:00 a.m. to 6:00 p.m. and on Friday at the church from 10:45 a.m. until service time.