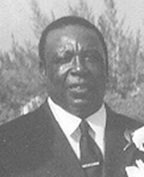 William ""Mop"" Beacher Johnson
unknown - unknown
Funeral service for William Beacher "Mop" Johnson, 64 yrs., a resident of North Blanket Sound, Andros, will be held at St. Hope Baptist Church, Blanket Sound, Central Andros, on Saturday at 10:00 a.m. Officiating will be Apostle Rev. Dr. Dorinda Dean, assisted by Rev. Janet Marshall & Min. Vyreen Bain. Interment follows in Blanket Sound Public Cemetery, Andros.
He is survived by his mother: Mirley Conyers; wife: Malvese Johnson; Seven sons: Anthony , Leon, William Jr, Charles, Haywood, Valdez and James Johnson; Three daughters: Michelle Evans, Shantel and Shonell Johnson; Dear and special friend: Sandra Bowleg; Five adopted daughters: Raquel and Synida Johnson, Mekell, Rosie, Sharon; Five adopted sons: Romando, William Jr Neely, Kevin, Ron and Daron; Twelve grand children: Latonia, Gabrielle, Keasha, Britika, Lathera, Alicia, Alexandria, D'shea, Nelandra, Maverick, Anthony Jr and Isaiah; One great-grand: Chrisanae; Two uncles: Antniel Colebrooke and Linkwood Evans; One aunt: Annie Colebrooke; One brother: Talbot Johnson; Seven sisters: Betty Strachan, Jennimae Fergurson, Glenzina Curry, Orita Munroe, Maralene Johnson, Maureen Brown and Brenda McFall; Two brothers in law: Hiram Munroe and Bertram Ferguson; One daughter in law: Lorraine Bowleg; one son in law: Guy Evans; Five sisters in law: Alma Woodside, Cynthia Collins, Merlene Evans, Rochelle Scott, Emerald; Five brothers in law: Hervin, Spurgeon, Vain, John and Elvis Scott; Numerous nieces and nephews including: Keith Russell, Zelderaine Adderly, Rechell Lewis, Valderine Gervais, Deliah, Princess; A host of other relatives and friends including: Inell Challow, Quennie and John Hutcherson, Linda and Etric Bannister, Norma Wallace, Cynthia Poitier, Sammy Wallace, Samuel Mariqutta, Maryann, Ava, Lorraine, Marguerite, Albert, Doral, Soley, Braidman, Ishmael, Cyrano, Mario, Margret, Greg and Evette Stuart, Wendal Gaitor, Vantlock Fowler, Casper Fowler, Basil Neymour, Charles Miller, Ellen Newton, Humberto Boza, Alley Hanna and family, Isadora Scott and family, Shirley Brown and family, Steve and Hyacinth Hanna, Erma Mcgregor, Margaret Riley and family, Urine Saunders and family, Esther Woodside and family, Mark Scott and family, Rev. Dorinda Dean and family, Berchanell Gibson and Family, Maxwell Roberts and family, Derek Miller and family, Rubuen and Deloris Forbes, Paula Adams and family, Georgina Seymour and family, Wilfred Johnson and family, Mias Johnson, Staff at Fresh Creek Community Clinic, The entire North and Central Andros Communities and The Lower Bogue Community , North Eleuthera.
Friends may pay their last respects at Demeritte's Funeral Home, Market Street, from 1-6:00 p.m. on Thursday & on Friday at the church in Andros from 1:00 p.m. until service time on Saturday.