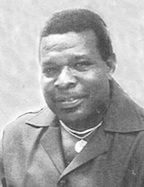 Harry Christopher Wallace
unknown - unknown
Funeral Service for Harry Christopher Wallace, age 72 years, of 21 Edward Ave, off Jerome Ave, formerly of Mortimer's Long Island, will be held on Saturday April 27th, 2013 at 9:00 a.m., at St. Francis Xavier Cathedral, West Street. Officiating will be Rev. Fr. Glen Nixon. Interment will follow in Woodlawn Gardens, Solider Road.
Left to cherish his memories are his loving wife: Marina Wallace; his sons: Michael, Simon and Rodney Wallace; his daughters: Kathleen and Pauline Wallace; one adopted daughter: Monique Burrows; four brothers: James "Butch," Clement and Joseph Wallace, Timothy Ferguson (best friend/brother); two sisters: Marie and Sarah Wallace; brothers-in-law: John, Andrew, Vencil, Sandal, Vandal, Anthony, Herbert and Joseph Major; sisters-in-law: Pearline, Ruth and Nathelee Wallace, Delores Mortimer, Linda Dames, Iris Rolle, Erma Major and Edith Williams; one uncle: Edmund Mortimer (Fort Lauderdale, Florida); nephews: James, Quentin, Bertram, Jeffrey, Carlson, Carlensino, Joedell, Jevaughn and Andrew Wallace; Baron and Elvis Strapp; Wayne, Earnest, Julian, Terry and Perry Mortimer, Drexel, Duvaughn Curtis, Dencil, Delano, Justin, Travis, Brandon, Vensanio Vencil Jr., and Benjamin Major, Douglas Pratt, Dvaine and Dwayne TB Strachan and Breshoan Pennerman; nieces: Brittany Campbell, Maresha Culmer, Shandinique Smith, Cora Mackey, Heneritta Ferguson, Mae Woodside, Laverne, Maltina, Michelle and Crystal Wallace, Maris Sands, Brandly Roberts, Sandra Dee Moxey, Dulcie Armbrister, Davina Lewis, Deidre, Lynette, Carrington, Darilyn, Andrea, Charine and Melinda Major, Olivia and Evandna Cartwright, Lisa Ferguson, Keisha Leary, Lethera Dames, Keandra and Kenderia Rolle, Dwaniqua Pratt, Bernadette Harding, Veronica Alday and Vandrea Glinton; cousins: William, Brendon and Frank Watson, Emmanuel Mortimer, Faith Roxbury, Violet Williams, Muriel Wilson, Allen Wallace, Joyce Gilbert, Oralee Gibson (Freeport), James Gibson (Florida), Eula Brown, Thelma Johnson, Harriett and Ophelia Wallace and a host of other relatives and friends too numerous to mention.
Special Thanks to: Dr. Arthur Clarke, P.M.H. Oncology Department, Nurse Hanna and Nurse Jacklyn Bethel (Touch Me Not), the family and friends of St. Thomas More Catholic Church and the community of friends of Jerome Avenue.
Friends may pay their last respects at Butlers' Funeral Homes and Crematorium, Ernest and York Streets, on Friday April 26th, 2013 from 10:30 a.m. to 4:30 p.m. and at the church on Saturday April 27th, 2013 from 8:00 a.m. until service time.