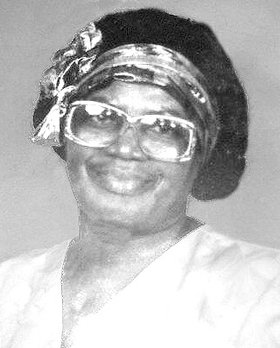 Laura Alease Rolle
unknown - unknown
Funeral Service for the late Minister Laura Alease Rolle age 74 years, a resident of Grand Cay, Abaco, Bahamas will be held on Saturday, April 27, 2013 at 11:00 a.m. at Shiloh Baptist Church, Grand Cay, Abaco, Bahamas. Officiating will be Rev. John Russell, assisted by Rev. Henry Cooper Jr. Interment will follow in Infant View Cemetery, Grand Cay, Abaco, Bahamas. 
Left to cherish her life are husband: Deacon Lloyd Rolle; sons: Sidney Rolle Sr. and Richard Russell; daughters: Monique Smith, Minister Laura Gardiner, Carrie Rolle and Tiffny Hanna; adopted children: Charles Fowler, Barry and Audrey Albury and Sabrina Russell; sisters: Mother Louvina Russell, Vertil Rolle and Delores Pratt; brothers: Eric and Wilbert Cephas; grandchildren: LaShae, Sidney Jr., Tameka, Cordell Rolle, Cathy, Clarissa, DeAngelo Russell, Amanda Wilson, Mantany, Cordero, Shaqueen, Paul Jr., Shavanna Gardiner, Kriston Smith and Carrington McIntosh; adopted grandchildren: Charlton, Adrine, Brandon, Orick Fowler, Bianka, Tamaris, Randrika, Jaquere, Sharena, Kermont, Dermont and Maria; great grandchildren: De'Vonte, De'Vonya, De'Vonah, Tre'von, Sidney III, James Lloyd and Mason Scott; daughter-in-law: Geralene Rolle; sons-in-law: Paul Gardiner, Leon Smith and Charles Hanna; sisters-in-law: Sister Maxine and Ada Cephas, Sister Rejoina Rolle, Marie Russell and Thelma Hield; brothers-in-law: Bishop Velock Russell, Gerald Rolle, Henry Stuart, Stephen Pratt, Wellington and Ezra Rolle and Spellman Russell; granddaughters-in-law: Marla and Brenique Rolle; grandsons-in-law: Kirkwood Dames Sr. and David Wilson; aunt: Anna Russell; uncle-in-law: Alfred Russell; nieces: Sherry, Bernadine, Charlene, Debramae, Addie, Etta Jean, Darlene, Allison, Millicent, Mena, Annamae, Patricia, Fairlene, Ettamae, Helen, Louise, Clarissa, Stellamae, Ebby, Carrissa, Wendy, Erica, Sharease, Cassandra, Barbara Jean, Nadia, Stephanie, Dr. Cindy Dorsett, Carolyn and Sherry Rolle, Maedene Bowe and Gertrude Adderley; nephews: Hamilton, Glen, Kennedy, Kermit, McGarett, Marcel, Romeo, Ivan, Percy, Hilton, Craig, DeAngelo, Delvin, Michael, Tony, Jerome, David, Ellias, Stephen Jr., Robert, Elvis, Donald Jr., Clifton and Rev. Henry Cooper Jr., Minister Fenton Russell and Jody Rolle;  and a host of other relatives and friends.
Viewing will be held on Friday, April 26, 2013 at Shiloh Baptist Church, Grand Cay, Abaco, Bahamas, from 6:00 p.m. until and on Saturday, April 26, 2013 from 9:30 a.m. to service time at the church.