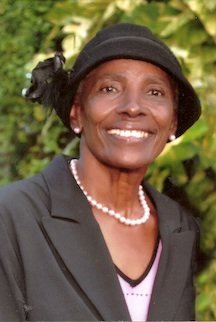 Halson Amalda Nairn-Pinder
unknown - unknown
Funeral Service for the Late Halson Amalda Nairn-Pinder, 75 years of #14 Whitfield Street, and formerly of Mangrove Cay, Andros, will be held on Saturday August 24th, 2013, 10:30 a.m. at St. Agnes Anglican Church, Baillou Hill Road. Father Neil Nairn will officiate. Interment will follow in the church cemetery, Nassau Street.
Left to mourn her passing are: Husband: Eual Pinder; Sons: Kermit, Anthony and SPC. Eual Pinder (U.S. Army); Daughters: Donna Culmer & Bernadette Galanos; Son-in-law: Joseph Culmer; Daughters-in-law: Joy, Vickie and Elaine Pinder; Grandchildren: Kermit, Kendra, Janeil, Georgette, Javon, Ashley, Alana, Joekeisha, Joemeko, Joenai, Ebonie, Shanda, Franklyn, Lashawn, Petrina, Ferrez, Kadan, Ricardo, Keira, and Deandra; Great grandchildren: Ethan, Tyler, Tray, Christopher, Joshua, Crisshanda, Keishanda, Ryshon, Reymond & Jordyn; Brothers: Hughie & Kenneth Nairn, Percy and Daniel Rolle; Sister: Ismae Nairn; Sisters-in-law: Elois, Agnes, Inez, Sybil and Ruth Nairn, Delores Rolle, Nora Rolle; Numerous nieces and nephews including: Andrew Saunders, Tyrone Blyden, Paul, Patrick and Denise Lightbourne, Marjorie Johnson, Antoinette Cox, McLinda Bowe, Margaret McDonald, Bishop Anthony Nairn, Ellen Cobb, Jacquelyn, Sherman, Kendal, Huel, Barry, Harvey, Stafford Jr., Avery, Bernard, Vincent, Darryl, Ronnie, Eugene, Aiden, Michael, Stafford, Godfrey, Dale, and Dr. Mary Nairn, Rev. Ella Marie Grady, Arnette Waltress, Albert Ferguson, Gloria, Vanrea Turner, Patricia, Paula Adderley, Elaine Adderley, Deborah Lightbourne, Patrice Martin, Permel Schimpt, Loretta, Valderine Demeritte, Sandra Grant-Rolle, Judy Hills, Erica Lamm, Lionel Jr. Delano, & Brain Cash, Anna Sledge, Thomas Jr., Eric, Dawn, Jackie, Ramona, Pedro, Cedric, Trevor and Debbie Pinder, Laverne Greene; and a host of other relatives and friends including: Lenford Nairn & family, Garnet Nairn & family, Daniel Nairn &. Family, The Families of Allan, Donnie, Arthur, Daniel, Joseph, Leonard, Basil, Harvey and Stanley Nairn, The Family of Naomi Evans, Clifford Johnson, Clarinda Saunders & Family, Athama Bowe, Dudley McDonald, Marsha Saunders, Annamae Blyden, Natalia and Bobbyann Lightbourne, Pastor Sharon Nairn, Naomi Williams, Julie Nairn, Lorenzo Cobb, Richard Grady, Devern Nairn, Yvonne Rigby, Arthur and Kenneth Sweeting, James, Edward and William Pratt, Betty and Grace, William Rolle, Joyce Nairn & Family, Fr. Neil Nairn, Jeffery and Ray Nairn, Karen Brennen, Gayle Roberts, Rochelle Thurston, May Jane Cartwright, Michael, Jonathan, Christopher and Sydney Nairn, Carl Jr. and Allan Nairn, Florence Beckford, Arnold & Angela Neely, Marge Bowleg, Delores Simms, Jelita Bain & Family, Rose Colebrooke & Family, Livingston Pinder, Godfrey "Pro" Pinder, Rupert and Zora Pinder, Alvin Miller & Family, Doreen Campbell & Family, Raymond Culmer & Family, Steve Hepburn & Family, Linda Smith & Family, The Charles Family of Miami, Florida, Carrie Simms & Family, Ricardo & Hazel Thompson & Family, Rose King & Family, St. Agnes Paris Family, The ACW of St. Agnes Church, The Bahamas International Church of Christ Family, The Mason Addition Family, The Saxons Group and numerous other relatives and friends. Dr. Roland Hamilton, Stel Miller & Family, Portia Sears & Family, Angela Knowles, Weena Decius & Family and Caroline Sweeting & Family.

Friends may pay their last respects at Bethel Brothers Morticians, #32 Nassau Street on Friday from 10:00 a.m. to 6:00 p.m. and on Saturday at the church from 9:30 a.m. until service time.