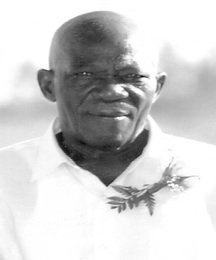 Jack Senatus Joseph
unknown - unknown
Funeral Service for the late Jack Senatus Joseph age 79 of Nairns Garden, Carmichael Rd. will be held on Saturday August 24th, 2013 at 11:00 a.m. at Our Ladys Catholic Church, Deveaux Street . Officiating will be Father Alean . Interment will follow in The Catholic Cemetery, Tyler Street.
Left to cherish his memories is his Wife: Patsy, Daughters: Sandra Pratt, Michelle Dawkins, Elechiemae Roberts, Joyce Seymour, Lorraine, Jasmine, Janice and Joycelyn Joseph. Sons: RBDF Leading Mechanic Edney Joseph Sr. Dwayne, Douglas, Jermaine (pre-deceased), Wilfred, Jerome, and Jackson Joseph, Companion: Fanya, Grand-daughters: Nykia Rodgers, Tellisa Seymour, Felicia Joseph, Natasja Whylly, Joshua, Edney Jr., Chelsey, Lashanti, Alyssa, Treyvon, Trenique, Tyronique, Dwayne Jr., Kenneth, Tamara, Tevin, Sandra, and Tanae. Great grandchildren: Denari, Sydneque, Kaymara, Releah. Brothers: Celbert, Emmanuel, Tanis, and Doheim Donjoie of Miami, Florida. Sisters: Arrida, and Morrles Donjoie of Atlanta. Neices, Nephews, Brothers in law: Christopher and Luther Nottage. Sister in law: Maryann Nottage. Daugther in law: Caroline Joseph, Sons in laws: Donald Dawkins, Dereck Roberts, Marvin Seymour. Cousins including: William, Leonsay, and Paul Pierre and family, Hernold Oscar and family, Yardy Joseph and family. Numerous other relatives and friends including: Bertram Sweeting and Family, Mildred Richardson and family, Patricia Lewis and family, Ella lewis and family, Mavis Vanderpool and family, Tyrone Wilson and family, Mckenzie Victor, Carl Harris, Chonkin Jean – Pierre, Deangelo Major, the Windsor Lane, Lifebouy St., and Deveaux St. families, Christian Gospel Church and Our Lady's Church families and staff of Fotam Health Care Resourses.
Viewing will be held in the Legacy Suite of Vaughn O. Jones Memorial Center, Mt. Royal Ave. and Talbot St. on Friday from 10:00 a.m. to 6:00 p.m. and on Saturday at the Church from 9:30 a.m. to service time.