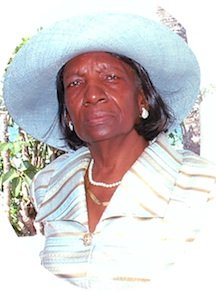 Leona "Ms Bill" Theresa Deveaux Munnings
unknown - unknown
Funeral Service for Leona Theresa Deveaux Munnings "Ms Bill" age 83 years of # 12 Eneas Street, Bain Town will be held on Saturday August 24th 2013, 11:00a.m at Mt. Calvary Baptist Cathedral, Blue Hill Road and Laird Street. Officiating will be Rev. Dr. Philip McPhee, Rev. Dr. Robert L. Colebrook and Bishop Simeon Hall assisted by other Ministers. Interment will be made in Lakeview Memorial Gardens & Mausoleums.
She is survived by her Children: Yvonne Brown, Harcourt and Terry Cooper, Deac. Elvis and Minister Debbie Lewis, Leroy and Linda Buisserth – Miami Gardens, Florida, PC586 Alfred and Earlene Munnings, Rev. Erskin and Marion Johnson- Orlando, Florida, Rev. Oral and Angela Munnings - Orlando, Florida, Lucille Strachan-Jordan – Miami, Florida, Fouty-Seven(47)Grandchildren: Shawn and Rasheda Brown, Sherman and Leona Campbell, Johnathon and Antionette Hall, Christopher and Chantell Johnson, Inez Brown, Arthur Brown Jr., Jacinta Brown Evita Burrows, Chantell, Deborah , Makhell , Bernard , Harcourt , Latisha , Terez ,Crystal , Charlensena , Mama , Brenda , Tony , Navardo, Bernard Cooper, Albertha Deleveaux, Crystal Swain, Amilia, Raynell , Reynoiu McKenzie, Avanell Miller, Ryan and Nathania , Romel , Rhemar Lewis, Craig Gibson Jr., Brisco and Ladania Sewell, Danisha Pyfrom, Christian Munnings, Pastor Ashton and Sonovia McFall, Okell and Allurine Damascus, Ramon, Raynaldo, Rashad, and Reheem Munnings; One(1) Sister: Catherine Cooper – Grand Bahama; Numerous Nieces and Nephews Including: Catherine (Cathy) Neely, Mitzi Rolle, Kim Cooper, Shelly Cooper, Frances Fisher, Carol Fisher-Kemp, Esther Fisher, Judy Fisher-Cash, Anthony Eulin, Alden Cooper, Jeffery Cooper, Bradley Cash, Rev. Steven S. Brown, Andre Cooper, PC601 Michael 'Boshang' Cooper, Anthony 'Boshang' Cooper, James McDonald, Keith cooper, Craig Cooper, Clint Cooper, William Cooper, Joseph Cooper, Franklyn Fisher, Calvin Fisher, Reuben Stuart, Ruth Adderley; Other relatives and Friends Including: Mrs. Sonia Gordan (care giver), Rev. Kenris Carey, Naomi Deveaux, Audrey Deveaux, Mr. Earl Deveaux, Rev. Isolene Rolle and Family, Thelma Newton, Willamae Scott, Marcia Charlow, Craig Gibson Sr., Danny Pyfrom, Rev. Princess Culmer, Hubert, Kirkwood, and Edwin Vickie Brown, Alfreda Lightbourn, Edwina, and Wendy Armbrister and others too numerous to mention.
Relatives and Friends May pay their respects at Cedar Crest Funeral Home & Crematorium, Robinson Road and First Street on Friday from 12:00 noon to 6:00 p.m. and at the church from 9:30 a.m. on Saturday until service time.